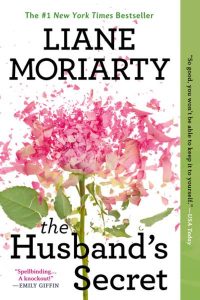 I've been hungry for that kind of novel that calls out to you from the nightstand all throughout the day, teasing you to drop off working a little early so that you can open it up and continue where you left off the night before. My work office is my home so my current read is never more than a flight of stairs and a hallway away. After a couple of less-than-compelling books, I was very glad to get caught up in Liane Moriarty's THE HUSBAND'S SECRET this past week.
I didn't know much about the novel beforehand, just that it had rave reviews, lots of book clubs were reading it, and my agent said it was fabulous. I purposely didn't read the back cover copy — which I find sometimes gives too much away. I was immediately drawn in to these three women and their seemingly separate stories. I knew somehow Tess and Rachel and Cecelia would collide on the pages and it was deliciously compelling to wonder how.
Here's as much as I want to tell you about it. This is from the back cover:
"My darling Cecilia, if you're reading this, then I've died…

Imagine that your husband wrote you a letter, to be opened after his death. Imagine, too, that the letter contains his deepest, darkest secret—something with the potential to destroy not just the life you built together, but the lives of others as well. Imagine, then, that you stumble across that letter while your husband is still very much alive. . . ."
I won't say more about the plot because if you decide to read it, it's best – I think – to just go in ready to be told a story about flawed people trying to hang onto normal when everything around them is tilting.
Entertainment Weekly says THE HUSBAND'S SECRET is "emotionally astute, immensely smart, and cinematically plotted." I agree. I can see this one being adapted for the big screen. My book club is reading it next, and I know it will lead to a great discussion. Characters making choices when there is a moral dilemma involved always makes for a lively book club chat.
I'm happy to already have Liane's BIG LITTLE LIES ready to read. My mom – a voracious reader – says it's terrific.
But first, my second book club (so, yeah, I'm in two) is reading Lisa Wingate's THE SEAKEEPER'S DAUGHTERS and I'll be starting that tonight.
Have you read Liane Moriarty? What did you think?