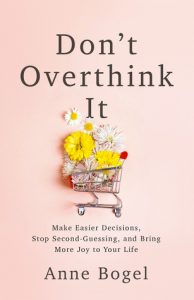 Hello, reading friends. I hope you are able to find a place of tranquility on this Friday afternoon but if you're feeling stretched in too many directions while at the same time feeling isolated and kerfuffled, I have an interview here for you – and a book – that might help. My dear friend Anne Bogel, who you might also know as the amazing Modern Mrs. Darcy, has a brand new book out – and yes, it released into a weary world in the middle of this pandemic – and it is so timely. DON'T OVERTHINK IT is Anne's third book and in its pages, she wants to help you not only overcome negative thought patterns that rob you of joy and peace but replace them with positive ones. More than a book about good decision-making, the back cover says, DON'T OVERTHINK IT "offers you a framework for making choices you'll be comfortable with, allowing you to use an appropriate amount of energy and freeing you to focus on all the other stuff that matters in life."
Anne, aka MODERN MRS. DARCY, is the author of READING PEOPLE and I'D RATHER BE READING and creator of the excellent podcast WHAT SHOULD I READ NEXT? She makes her home with her family in Louisville, Kentucky and is a pure joy to know. Read on to see how to get in on a drawing for a copy of her book and to check out her terrific Stay-at-Home-Book-Tour videos for both her book (all your many questions are answered!) and one for mine, THE LAST YEAR OF THE WAR, which released in paperback into this strange, new world on Tuesday.  But first, let's chat with Anne:
SUSAN: Tell us about your new book. Did you ever dream you were writing a book that people might need in the midst of a pandemic?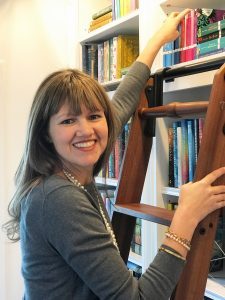 ANNE: I certainly didn't! The new book is about making easier decisions, stopping second-guessing, and bringing more joy to your life. Studies show nearly all of us engage in overthinking—that means repetitive, unhealthy, unhelpful thoughts. Overthinking is exhausting, and it makes us miserable. But with new strategies and some practice, we can learn to stop thinking our way out of happiness and think our way into it instead.
For many people, overthinking is a deeply entrenched habit, so overcoming it requires new strategies and plenty of practice. I imagine that's why people are finding the book so helpful right now: we're all dealing with circumstances we haven't seen in our lifetimes. Our routines have been disrupted, and we're having to make lots of decisions we never anticipated. Not only that, the news is a major overthinking trigger. People need resources; they need help.
SUSAN: So true. Was there anything in the writing and research for this book that surprised you?
ANNE: Before I began this project, I was oblivious to the connection between overthinking and perfectionism. I'm a recovering perfectionist, and those tendencies still trip me up sometimes. Once I understood how much of my own overthinking was driven by perfectionism it became much easier to overcome those particular negative thought patterns.
SUSAN: That is so interesting. I think I might be a wannabe perfectionist! That's either not quite as bad or far worse! What are some tips from the book that all of us can use in these uncertain times?
ANNE: First, when you take care of your body, you take care of your brain, so focusing on the basics is crucial to set yourself up for success in this area: don't forget to eat breakfast, get some exercise, drink your water, get enough sleep.
We all have moments where we catch ourselves stuck on the overthinking treadmill, and when that happens it's good to have some strategies handy so we can pull ourselves out of that thought spiral. Try scheduling time to overthink each day: this may sound counterintuitive, but if you tell yourself you'll indulge that overthinking at the designated hour, it's easier to put those thoughts aside for the rest of the day. Try distracting yourself: this works because the brain can only focus on so many things at once. Give your mind something else to occupy it: read a book, pay a bill, play a game of Tetris, follow a new recipe. Finally, when your brain is stuck, move your body: take a walk, go for a run, do a set of plans or some jumping jacks. When you move your body, you move your mind.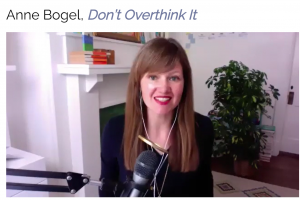 Susan here again. Such good words. Anne spoke more about this book and answered questions from a packed Zoom room where a virtual book stop took place. A great listen if you want to hear more from Anne. Mine is also available to watch on this same replay page.
You can get a copy of Anne's book and at the same time support local independent bookstores by shopping for it right here.
If you'd like to get in on a drawing for a copy of Anne's book, just drop a comment below and tell us one way you are coping with the difficult circumstances we are all presently bound up in. It can be a fun way, serious way, easy or complex. We want to hear them all. A winner (and it can be an international winner if bookdepository is still shipping to your country) will be randomly drawn at noon Pacific on Monday. Happy Easter weekend all!