"Meissner's prose is exquisite, and she is a stunning storyteller."
—Publishers Weekly, starred review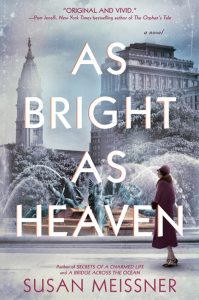 COMING FEB 6

AS BRIGHT AS HEAVEN: Fall 1918 – When Pauline Bright's husband is made heir to his uncle's very successful Philadelphia funeral home, they move to the city optimistic that they can now give their three daughters—Evelyn, Maggie, and Willa—a wonderful, carefree life. Just months later, however, the Spanish Flu descends, turning their lives and the world around them upside down. But even as they lose loved ones, they take in a baby orphaned by the disease who becomes their single source of hope. Amidst the tragedy and challenges, Pauline and her daughters learn what they cannot live without—and what they are willing to do about it.
"Strong, resilient, and determined to make their way in a changing world, Meissner's characters step off the page and into history."—Lisa Wingate, New York Times bestselling author of Before We Were Yours
"With stunning prose and keen detail, Meissner has deftly created a heady mix of love, politics and survival…A must read!"—Pam Jenoff, New York Times bestselling author of The Orphan's Tale
Available at: Amazon, Barnes and Noble, Books A Million, Indie Bound, and Powell's.

ECHOES FROM THE PAST
A BRIDGE ACROSS THE OCEAN: World War Two is over, but the recovery from the most intimate of its horrors has only just begun for a German ballerina desperate to escape her past and the wronged daughter of a French Résistance spy. The two women join hundreds of other European war brides aboard the RMS Queen Mary to be reunited with their American husbands but their tightly-held secrets are laid bare in their shared stateroom, changing everything. Seven decades later, a young woman who can see ghosts encounters the war brides' tragic past aboard the now famously haunted ocean liner. Will the quest to right an old wrong bring Brette the clarity she needs to find her own happiness?
"I was utterly spellbound, beguiled, swept up in this ghostly mystery."–Jamie Ford, New York Times bestselling author of Hotel on the Corner of Bitter and Sweet
"…a fascinating read that will keep you up well into the night." – Rebecca Cochran, Historical Novels Review
Available at: Amazon, Barnes and Noble, Books A Million, Indie Bound, and Powell's