"Meissner's prose is exquisite, and she is a stunning storyteller."
—Publishers Weekly, starred review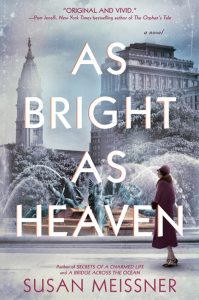 NEW FROM BERKLEY

AS BRIGHT AS HEAVEN: Fall 1918 – When Pauline Bright's husband is made heir to his uncle's very successful Philadelphia funeral home, they move to the city optimistic that they can now give their three daughters—Evelyn, Maggie, and Willa—a wonderful, carefree life. Just months later, however, the Spanish Flu descends, turning their lives and the world around them upside down. But even as they lose loved ones, they take in a baby orphaned by the disease who becomes their single source of hope. Amidst the tragedy and challenges, Pauline and her daughters learn what they cannot live without—and what they are willing to do about it.
"Strong, resilient, and determined to make their way in a changing world, Meissner's characters step off the page and into history."—Lisa Wingate, New York Times bestselling author of Before We Were Yours
"With stunning prose and keen detail, Meissner has deftly created a heady mix of love, politics and survival…A must read!"—Pam Jenoff, New York Times bestselling author of The Orphan's Tale
"A potent story of courage and survival set against an unusual WWI backdrop pushes readers to reevaluate what they know about the era and the lives of people not directly involved in the war. As readers immerse themselves in this detailed story of one family, told through several points of view, they are lured into a time and place that gets its richness from Meissner's lively characters' voices and the lush, realistic historical details. For many, the information about the Spanish In?uenza epidemic will be new and thanks to Meissner's storytelling talents, something they will remember. As Bright As Heaven is heart wrenching, well written and unforgettable." – ROMANTIC TIMES 4 ½ stars, TOP PICK
Available at: Amazon, Barnes and Noble, Books A Million, Indie Bound, and Powell's.
UPCOMING EVENTS
Oct. 13, Poway, CA – I will be speaking at an author's luncheon and fundraiser for the Poway chapter of AAUW located at the Brigantine Restaurant in Poway. 11:30 AM | $55 for non-members, $50 for AAUW members.
Oct. 26-28, La Jolla, CA – I will be on the faculty of the La Jolla Writers Conference the beautiful Hyatt Regency All the information on how to register is right here: La Jolla Writers Conference. 
Nov 16, Santee, CA – I will be speaking about the Spanish Flu and AS BRIGHT AS HEAVEN at the Breakfast & Books event at the Santee Public Library. More details to follow…