If you would like me to visit your book club by phone, FaceTime, or Skype, a 30-minute-long online or phone visit with your club is always free, and easy to arrange through NovelNetwork, which is a service that matches book clubs with authors and arranges for author visits. It's free to join.  If you'd like a one-hour online visit, or if you live in the San Diego area and are interested in an in-person one-hour visit, the charge for that longer chat is nominal if you parcel it out per person in your club. You can check out NovelNetwork right here: author connect
Most of my books include a readers guide at the end, but if you choose an older one that does not, just drop me an email and I will send you a PDF of questions regarding that book to help you with your discussion time.
SPECIAL DISCUSSION GUIDE FOR AS BRIGHT AS HEAVEN! The artistic minds at Berkley have created a lovely PDF reading guide for you to use with your book club. Click on the PDF file at right.
If you choose one of my books as a club. please feel free to send me a photo of your group with the book in hand, and I will happily post it here on this page! Just send it in raw JPG form to susanlmeissner at gmail dot com!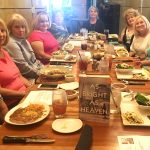 Emerald Coast Book Club Beauties of South Walton County FL.(Summer 2018): "As Bright As Heaven was a hit! Thank you for being a very big part of our lunch/book discussion today!"