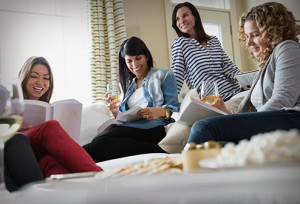 If you would like me to visit your book club by phone, FaceTime, or Skype just give me a shout at susan[at]susanlmeissner[dot]com and we'll see if our schedules will gel. I really enjoy talking to book clubs and am ready to answer any additional questions you may have about any of my books.
Most of my books include a readers guide at the end, but if you choose an older one that does not, just drop me an email and I will send you a PDF of questions regarding that book to help you with your discussion time.
If you choose one of my books as a club. please feel free to send me a photo of your group with the book in hand, and I will happily post it here on this page! Just send it in raw JPG form to susanlmeissner at gmail dot com!
Book Club Tips:
Want to inject a little fun into your book club gathering? Try one of these fun games:
Alphabet Soup Arrange yourselves in a circle and have each member name a character, event, place, or object from the current book—the first letter of which starts with A, the next with B, the next C, and so on through the alphabet.
What's Happens Next? Take the novel you've just read – or one you've read as a group over the past year – and imagine an epilogue or an alternate ending. What happens to those characters a year from now or five years or twenty years? You can divide up into teams, or go solo, and you can make it as funny or different or melodramatic as you like! Share the new epilogues or alternate endings out loud. Someone in my book club was unhappy with the ending of GONE GIRL and she did this exact thing and emailed it to us all. It was very entertaining. This would be fun to do at the gathering itself!
It's in the Bag! Having a book club anniversary? Tell everyone to bring an object that relates to one of the books you've read and put them in a large gift bag or box. Hand out pieces of paper and then pull out the objects one by one. Each person writes down what book they believe the object is from. Whoever has the most correct guesses wins! Easy Examples: stuffed tiger for Life of Pi; potato peels for Guernsey Literary Society.
He Said/She Said Read a few quotes by or about various characters from the current book or past book selections. Your group members try to guess who said what and when. For more fun, divide into teams and keep score. If you're the host, you will need to come up with the quotes ahead of time. Goodreads is a great place to find the most popular quotes from book-club type books.
These game ideas were adapted from Games and Icebreakers by LitLovers. Head to their site for more book club resources!