The footage we've been seeing the last few days of the children in Afghanistan is breaking my mother-heart, and like so many of us here in the West, I am aching to do more for them than merely pray for their safety and rescue. I am a firm believer in prayer, but I also believe we are often able to participate in the answer to those prayers if we look for the avenues after we rise from our knees. More about that at the end of this post.
Those kids in Afghanistan, all of them born during this last stretch of freedom years when, among other things, all of them could attend school, are now living in an inverted world from the one they've always known. They've been thrust into a situation that is not of their making, one imposed on them and too many of them will have to find a way to be as brave and wise and resilient as people much older.
I am always moved and crushed and inspired by stories, real and imagined, about children who should be able to be what they are – children – but instead are compelled to navigate the complex and often scary world of adults. I was reminded today of the many novels I have read where this theme runs through the pages. I offer them here as a list for your own reading and would love to hear which books you would add to it.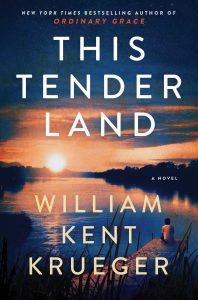 THIS TENDER LAND by William Kent Krueger  is one of my favorite reads from the year 2020. Krueger's style is impeccable and his novels never fail to impress. He is a true wordsmith and painter of stories. This novel is about four orphan vagabonds who "journey into the unknown, crossing paths with others who are adrift, from struggling farmers and traveling faith healers to displaced families and lost souls of all kinds." It's been described as enthralling, bighearted epic "that shows how the magnificent American landscape connects us all, haunts our dreams, and makes us whole." Highly recommend. And if you love this one, you will gobble up ORDINARY GRACE, an earlier title of his.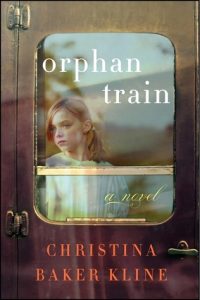 ORPHAN TRAIN was my first Christina Baker Kline novel and even all these years later, I still can remember how this story broke me and yet made me stronger. Here is a dual time line story of two women: one, a teenager about to age out of the foster care system, and the other, an elderly woman who'd been orphaned as a child and was put on a train to the Midwest with "hundreds of other children whose destinies would be determined by luck and chance." It is not easy to read what happens to the young girl who will become the old woman who will change this troubled teen's life but easy books usually don't stay with me. I am typically not inspired or changed by them. Books that work their way into my soul leave their mark. This one did that.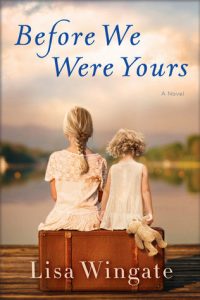 BEFORE WE WERE YOURS by Lisa Wingate  is one of those books that made me want to reach back into the past and pull the children – real ones – caught up in the actual scheme that forms the premise of this novel out of that hell and into the present where I could protect them. Would I know exactly how to do that? Well, maybe not, but I wouldn't rest until I'd exhausted every effort. This is a dual timeline tale, but it's the part in the past that had my mother-heart writhing. From the publisher: "Wrenched from all that is familiar and thrown into a Tennessee Children's Home Society orphanage, the Foss children are assured that they will soon be returned to their parents—but they quickly realize the dark truth. At the mercy of the facility's cruel director, Rill fights to keep her sisters and brother together in a world of danger and uncertainty." Lisa is a master at the craft of storytelling. Her prose is evocative and rich, even when it's breaking your heart.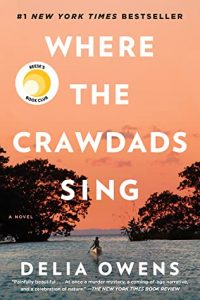 WHERE THE CRAWDADS SING by Delia Owens  After having been on the NY Times bestseller list for two years there probably isn't a soul reading this blog post who hasn't read this book, so I probably don't have to say too much about it! I will say I was moved by this novel and its young protagonist's journey. The publisher describes the book this way: "Owens juxtaposes an exquisite ode to the natural world against a profound coming of age story and haunting mystery. Thought-provoking, wise, and deeply moving, Owens's debut novel reminds us that we are forever shaped by the child within us, while also subject to the beautiful and violent secrets that nature keeps." Looking forward to the screen adaptation of this one!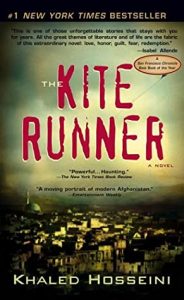 THE KITE RUNNER by Khaled Hosseini was the first of his that I read and I became an immediate devotee of his writing style. And in these days of ours I am thinking I might re-read it, and his stellar A THOUSAND SPLENDID SUNS – both are set in Afghanistan. From the publisher: "The unforgettable, heartbreaking story of the unlikely friendship between a wealthy boy and the son of his father's servant, The Kite Runner is a beautifully crafted novel set in a country that is in the process of being destroyed. It is about the power of reading, the price of betrayal, and the possibility of redemption; and an exploration of the power of fathers over sons—their love, their sacrifices, their lies. A sweeping story of family, love, and friendship told against the devastating backdrop of the history of Afghanistan over the last thirty years." Again, not an easy read. For some readers, there may be triggers within the pages. But so impactful and memorable.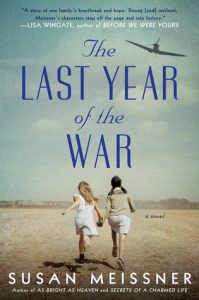 THE LAST YEAR OF THE WAR  I end this list of six titles with one of my own. I had no idea until 2015 that during WW2, hundreds of interned German-American immigrants and their American-born children were repatriated to Germany in secret prisoner exchanges during the height of the Allied invasion. Reading about what it was like for these children to be thrust into the maelstrom of war was chilling. I imagined a story about a young teenage girl experiencing what dozens upon dozens of actual American children actually did experience. The Last Year of the War is the story of an Iowa-born teenager, imprisoned with her family at a Texas internment camp, and then sent to her German immigrant parents' home country – a place she's never been where a language she has never spoken is spoken and where Americans are the enemy – and at a time when Germany is being bombed every night by Allied forces. It's a story about identity, loyalty, friendship, and resilience. And based on actual events.
I could add so many more to the list including ALL THE LIGHT WE CANNOT SEE by Anthony Doerr, and THE LANGUAGE OF FLOWERS by Vanessa Diffenbaugh, as well as nonfiction works like THE DIARY OF A YOUNG GIRL by Anne Frank and THE GLASS CASTLE by Jeanette Walls. But all lists must come to an end! Plus I would love to hear what books about children thrust into situations that many adults would struggle to handle have impacted you the most.
And if you are wondering like I am about what more I can do for the young ones in Afghanistan, a fellow author, Nadia Hashimi, has curated a list of aid organizations already in place to and support the Afghan refugee crisis. The Google doc is accessible via a link on her Instagram profile: https://www.instagram.com/nadiahashimibooks/. If you are not on Instagram, one of the places on her list is Doctors Without Borders. Here is the direct link to what they are doing in Afghanistan. https://www.doctorswithoutborders.org/what-we-do/countries/afghanistan