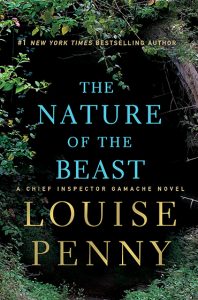 Ever since I listened to Kate Atkinson's LIFE AFTER LIFE on a long road trip with my husband, I've been itching to devour more books on audio. I can't believe it's taken me this long to realize how a good book on audio can revolutionize the way I look at driving up to Los Angeles or going anywhere during rush hour here in San Diego — both of which I used to dread. With a good audio book in the car with me, I — dare I say it? — I almost look forward to bumper-to-bumper traffic because it means more time with the book.
I could bring the book inside in the house with me, of course, but I purposely don't. I always have a pages book on my nightstand that I am in the midst of reading, so the audio book is for the car and only the car. It's my own personal quirky rule. But it makes driving fun instead of a chore.
At the library a couple weeks ago I saw that Louise Penny's newest, THE NATURE OF THE BEAST, was available to check out on audio, and having never read one of her novels before but having heard of her, I decided to give the Canadian mystery writer a go. I listened to my first Inspector Gamache tale and was instantly hooked, just like I was back in high school a million years ago with Hercule Poirot and Miss Marple. And since THE NATURE OF THE BEAST is the 11th in the Inspector Gamache novels, I know I have some serious catching up to do.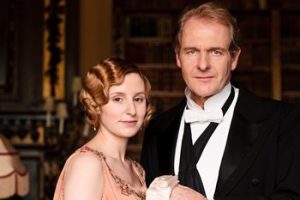 The audio version is wonderfully narrated by Robert Bathurst (whom you might remember on Downton Abbey as the man who abandoned poor Lady Edith at the altar). With a cast of characters as broad as this one with male and female, young and old, I was amazed at how adept Mr. Bathurst was at keeping the voices distinct and yet not overdone. The audio version contains a message from Ms. Penny about this being Mr. Bathurst's debut as narrator for an Inspector Gamache mystery, after the untimely death of the originator, Ralph Cosham.
The story is set in the quaint village of Three Pines, just outside Quebec, here an ensemble of  secondary characters make you wish it was real and you could stay at the B & B and eat at the bistro and sit on the village green with Armand Gamache and Reine-Marie. There's a murder, of course, to set things off — every mystery has one of those — but the story feels very much character-driven, even though most murder mysteries are steered by the plot.
I can't wait to back up and start at the beginning with Inspector Gamache with STILL LIFE, hopefully on audio, so I can "meet" dear Ralph Cosham myself. But I will definitely look forward to future Gamaches from Robert Bathurst.
So have you read or listened to any of Louise Penny's books? Tell me which one has been your favorite so far…