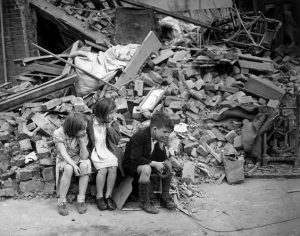 When I began writing SECRETS OF CHARMED LIFE a couple years ago, I had only the vaguest of notions of how much London suffered during World War II. Here was a city teeming with civilians – mothers, pensioners, children too young to be evacuated or just plain not evacuated – and yet it was bombed as if it were a military fortress filled with soldiers. When ordinary people are thrust into such extraordinarily difficult circumstances, their best virtues and worst flaws will emerge, twinned and twisted, and sometimes hard to distinguish between. War reveals to us what we love and fear most.
I love what the back cover copy says about Chris Cleave's EVERYONE BRAVE IS FORGIVEN, a novel I just finished reading, which is set during this time period:
"This dazzling novel dares us to understand that, against the great theater of world events, it is the intimate losses, the small battles, the daily human triumphs that change us most."
I keep telling myself, "Okay. No more WW2 novels! Broaden your horizon! Read about something else!" And yet I keep getting pulled back to books with this setting. Chris's new book, which earned a starred review in Publishers Weekly, is a gem, and written with such achingly beautiful prose, sometimes you can forget this is a book about what war does to people.  Several times I re-read a sentence just for the pleasure of tasting it again. All that said, it IS still a book about wartime decisions and the characters who must make them. The plot centers on three Londoners, Mary, Thomas and Alistair, and how the war orchestrates the choices they make. It is loosely based on love letters between Chris's grandparents. You can read more about the premise here.
The beauty in this book is not so much the story, but how the story is told, with delicious prose, cleverly placed humor, and a quiet urgency. It's different than THE NIGHTINGALE and ALL THE LIGHT WE CANNOT SEE, recent WW2 favorites of mine (and surprisingly also with lovely blue covers); it's a little more Dickensy, as one reviewer suggested, but the wordsmithing here is golden. It's one of those books that makes you ponder not just "what does this story mean?" but also, "what does this story mean to me?"
I'd read it again. A great book for book clubs. 4.5 stars