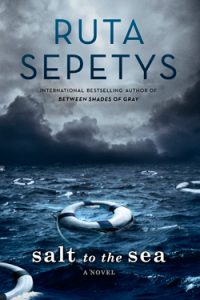 Was there a time when Young Adult lit was truly only for young adults? I am beginning to think maybe there was but it only lasted five minutes. I've been wowed over the last few years by more YA titles than my chronological age should allow. Ruta Sepetys' page-turner, SALT TO THE SEA, is apparently shelved in YA, though you need to know I read my mother's copy (who is obviously at least two decades older than me!) and she loved this book just as much as I did.
It's a hauntingly evocative, tender, moving, and remarkable story of four young people trying to survive the horrors of WW2. Told in four rotating viewpoints, Sepetys was nevertheless able to create the literary magic that makes the reader very okay with switching from one character's head to another. You know those books with multiple points of view, where you really only care about two of the four and you race to get past the pages of the characters whose stories aren't as compelling? This isn't one of those books.
The story is all the more riveting because it's based on a true-to-life disaster that, unless you've read the book, you've probably never heard of.
Here's the premise from the back cover:
"Winter, 1945. Four teenagers. Four secrets. Each one born of a different homeland; each one hunted, and haunted, by tragedy, lies…and war.

As thousands of desperate refugees flock to the coast in the midst of a Soviet advance, four paths converge, vying for passage aboard the Wilhelm Gustloff, a ship that promises safety and freedom.

Yet not all promises can be kept.

Inspired by the single greatest tragedy in maritime history, bestselling and award-winning author Ruta Sepetys (Between Shades of Gray) lifts the veil on a shockingly little-known casualty of World War II. An illuminating and life-affirming tale of heart and hope."
Ruta Sepetys' Goodreads author page tells us that she was born into a family of artists, readers, and music lovers, and that she is drawn to stories of strength through struggle. Her award-winning debut novel, "Between Shades of Gray" was inspired by her family's history in Lithuania and is published in 45 countries. Her second novel, "Out of the Easy" is set in the French Quarter of New Orleans in 1950, and "Salt to the Sea, which is her third novel, exposes one of the greatest hidden disasters of World War II.
It also says she lives  in a tree house in the hills of Tennessee!
I may not be a young adult, but I am also drawn to stories of "strength through struggle." Isn't that aptly descriptive of life itself at any age? Some days are easy and a wonderful, some are hard and harrowing — but all of our days make up our lives and thus make us who we are, at the age we are right now.
Highly recommended.