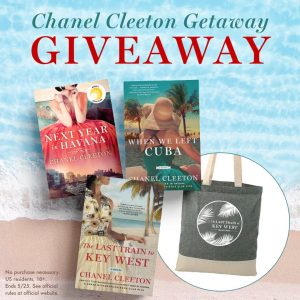 I don't know about you but Covid-19 and its stay-at-home orders, the monotony of every day feeling like we're Bill Murray in Groundhog Day, the specter of empty parking lots, the police tape around playground equipment, the spider webs lacing the hubcabs on my car, has me a little brain-fogged. I know I owe you a blog post but I've noticed it's hard to concentrate on things that aren't a big part of this NEW ROUTINE, this blog being one of them. But I am here today – confetti toss to me – and I am dropping in with some fun stuff that I've been collecting, albeit quite by accident. Here, in no particular order is a bunch of fun stuff.
My good friend and fellow Berkley sister, Chanel Cleeton, has a new book coming out next month – pandemic or no pandemic – and to help pave the way for the release of THE LAST TRAIN TO KEY WEST, Berkley is having a super fun giveaway sweepstakes that includes two additional (and wonderful) books by Chanel, plus a pretty special edition tote bag. As you can see from the photo above, I loved her newest, but they are all great books! Truly. This giveaway is open to U.S. entries only (sorry about that!). You can enter for a chance to win here: https://sweeps.penguinrandomhouse.com/enter/last-train-and-tote-bag-sweeps.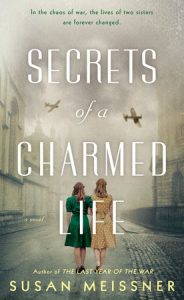 Have you noticed that World War II books just keep coming our way and no one seems to be tiring of them? I've only come across a couple people who say they're ready to move on to another historical fiction backdrop; the rest of us just can't seem to get enough of them. I know I am not tired of WW2 books. Not tired reading them and not tired writing them. There are still untold, undiscovered stories of WW2 and the time to tell them and find them is now, while we still have some of its living witnesses here with us. To align two of my older titles with THE LAST YEAR OF THE WAR, which is my most recent WW2 novel, my publisher has redesigned the covers of SECRETS OF A CHARMED LIFE and A BRIDGE ACROSS THE OCEAN – both of which are WW2 tales – so that they will easily be recognizable as from that era. And there's better symmetry between the covers.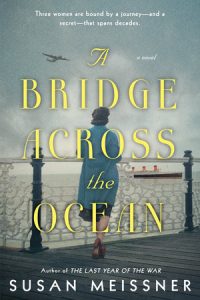 This may last just for now or for a long while. I still love the original covers (remember those beautiful dresses and the women wearing them with just part of their face showing?) We will see what people are drawn to? What do you think? I am happy to gain new readers who might not have picked up the two books before, but now will. Fingers crossed anyway!
These will show up mainly on ebook readers but also at some retailers. Let me know if you spot either one in physical form. Extra love from me if you nab a photo!
In more WW2 book news, I just finished Ariel Lawhon's  CODE NAME HELENE, which I loved, and which I will share about next Friday. So do come back for that!
And now for some fun stuff just because. I loved this video, shot by a UK sports commentator who is obviously not commenting on any sports, because COVID. So he's been finding little things in pandemic life to comment on in sports-commentator-like fashion. This is one is the absolute best to date:
And last for now, this just floors me. I am amazed by the amazing music coming out of the quarantined world, by yes, talented people, but recorded in their homes via their smart phone and laptops, all while in separate places!! Not in sound studios. This one just makes you want to dance a little:
So there you go! Happy Friday, friends. Hopefully I won't let you down next Friday and I will be here with more FUN STUFF!