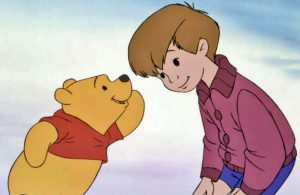 For as long as I can remember, I've been a fan of the world of Christopher Robin — his Thousand Acre Wood and a toy bear named Pooh and all his toybox friends: a donkey named Eeyore, a Tigger that bounces, a Piglet who forever stays a piglet, Kanga and Roo, and Owl and Rabbit.
I've had this 1958 copy of The House at Pooh Corner (pictured above) since I was a kid, and when I had my own littles, I must have watched the VHS tape of Winnie the Pooh and the Blustery Day a thousand times with them. And Winnie Pooh and the Honey Tree, and Winnie the Pooh and Tigger, Too. I could recite the entire scripts and sing every lyric of Heffalumps and Woozles.
When something is woven into the best memories of your childhood, and then into your children's childhood, you tend to feel a bit possessive of it, even if the thing itself isn't really yours.  So when I heard a movie was being made about A.A. Milne and the genesis of the books and characters I loved, I felt a pang of instant caution. I wanted to run headlong into whichever studio was trifling with perfection and yell at the top of my lungs, "Whatever you do, don't muck it up! You hear me? Do it right or don't do it at all!"
But then I saw this trailer and my heart was pricked and my emotional center was engaged and I thought to myself, "I think this might be very good.
I actually can't wait to see it. And I probably shouldn't assume from the get -go that movie studios just want to get it wrong. After all, I was so pleasantly surprised by such movies as Mr. Holmes, Saving Mr. Banks, and Finding Neverland, so at least by my count, they've gotten it right more than they've gotten it wrong.
How about you? What do you think of this trailer? What do you think of movies that bring beloved characters and their creators to life? Have you been happy with what the movie industry has given us? Tell me…