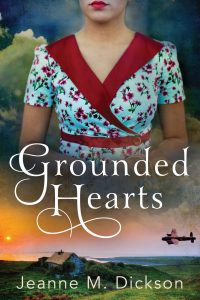 The best Mondays are the ones with book  giveaways tucked inside them! I am so pleased to have as my guest today fellow San Diegan and author Jeanne Dickson and to give away the CD audio version of her new novel, Grounded Hearts. Here is a WW2 story I'm pretty sure you haven't heard yet! The story is set in Ireland, which was neutral during WW2, something I hadn't known. It's also a love story about a young widow who takes in a downed Allied Forces pilot at great personal risk. I loved this book and I think you will, too. Read through my Q and A with Jeanne to see how you can get in on the drawing.
Q: Welcome, Jeanne! Let's start out with where you came up with the idea for Grounded Hearts.
A: I got the idea from my father. He was stationed in England during World War II. Issued a weekend pass, he decided to fly to the U.S. Army base in Northern Ireland, and then visit family who lived nearby. Once there, he borrowed a bicycle and peddled across the border into Eire, "Free Ireland." A few minutes into his ride, a member of the Garda, the Irish National Police, stopped him. The officer told him to turn his army jacket inside out, or he'd have to arrest him as a combatant and send him to the K-Lines internment camp. My father did as directed and continued on his way without further incident, which was fortunate because 240 soldiers from both sides of the conflict faced internment in Ireland during the war.
Q: How did you go about the research?
A: I started with family stories and childhood memories of living in Ireland. From there, I searched for books on World War II Ireland—there are only a few. And of course, I combed the Internet.
Q: What were some or a couple of the most interesting things you learned about Ireland during WW2?
A: The rules of Irish internment surprised me. Internees received day passes to visit the local towns if they agreed to return at night, and if they also promised they wouldn't attempt to escape. If an internee escaped while on leave, once back at their home base in Britain, they'd be promptly returned to camp in Ireland, or they'd face a court marshal in England. However, at night, it was the internee's duty to try and escape. Go figure. Apparently, the Irish guards only had blanks in their guns. Should someone try to escape, the Irish government didn't want anyone hurt.
Q: Will there be more books with any of these characters?
A: I would love to write Dr. Juliet Mann's story. She's complicated and flawed. After blotching her assignment in Grounded Hearts, she's given another chance to redeem herself, but the mock engagement to an Anglo-Irish earl has Juliet wanting to shoot him almost as much as she does the enemy.
Q: What has the writing process been like for you?
A: Very long! Many almost published moments, and then dashed back to the ranks of the unpublished. But all along, I've studied and improved my craft and never stopped writing and submitting.
Q: What advice do you have for aspiring nov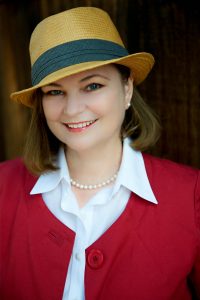 elists?
A: Get connected with a writing community. The friendships you make will see you through days of pain and moments of joy. And keep studying the craft. There are no shortcuts. It will probably take longer than you think to be happily published, but hang in there, and don't give up.
Q: What's next on the horizon for you?
A: I'm working on a new manuscript, a contemporary romance this time, set in Ireland, and I'm waiting for news on a couple of submissions. The process continues, and I love what I do.
Susan here! Thanks for being my guest on the blog today, folks! To get in on the drawing below for the CD audio version of this lovely book (the narrator has a lovely Irish lilt to her voice!) just comment below with one reason why you love a love story. A winner will be drawn randomly on Friday, so get your comment in by midnight Pacific time on Thursday, Aug 31.
Have a great week everyone!