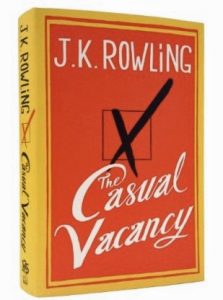 When a book makes me cry, and I confess that it doesn't happen very often – probably because as a storyteller I'm too aware that I'm reading a story that isn't real – I know I'm under the spell of a master writer, and that the story will stay within my being long after I've read it. (Note: This is especially true if that book involves a dog that dies. I was brought to traumatized sobs after reading Old Yeller #neveragain as an adolescent and I still tear up when I think of The Art of Racing in the Rain, which I read long after reaching adulthood and still wept like baby.)
Usually when I read a book that makes me cry – when the characters are so real that their troubles seem just as real – I recommend it right and left. As in, "You've GOT to read this book!"
I was emotionally and deliciously ruined by reading The Casual Vacancy, J.K. Rowling's not-Hogwart's book for adults. She had me loving every flawed character so much that I wanted to hold each one close – and there many in this ensemble cast – and tell them, "I see your pain. I see where it hurts, where no one else does."
But I can't recommend it.
This is not a Harry Potter book. I heard the voice of Harry Potter's creator – that devastatingly skilled voice – and I felt again I was in the presence of a demigod of the art of story. But I repeat, this is not a Harry Potter book.
I admit I have a meter that bends toward not-so-raw content. I don't like excessive profanity in a book – lots of it here – nor explicit bedroom stuff – too descriptive in these pages for me. I listened to this novel on audio (The narrator is amazing. Truly. I've never listened to an audio book featuring an extensive mixed-gender cast that was as brilliantly presented as this one, with the possible exception of Louise Penny's narrator) so the language was perhaps even more raw to me because I was hearing it. And I pressed the forward button a couple times when the sexual content was too graphic.
To each his or her own, of course, but too much of anything is too much.
And yet the characters, the premise, the richness of the rest of the prose. The emotional impact. This story was unforgettable. I will remember it always. But I will always remember the excess, too.
It is an amazing book. A magnificent five-star story that I cannot recommend.
Make of that what you will.
I am still trying to figure that out myself. Would love to hear your thoughts…
p.s.
A movie has been made, a fact I was unaware of until this morning. Here is the trailer. It looks like the film version has muddled with plot -as film versions of books often do – but here is the trailer if you want to take a peek: