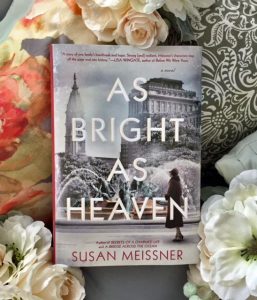 Hello, reading friends!
I've been holed up at the writing desk working on something new for you but I wanted to pop on the blog for a moment and let you know where I will be in February when AS BRIGHT AS HEAVEN is released into the wild. I would love to see you at one of these events!!
Feb 5  BROOKLYN, NY
Hosted by Bookmark Shoppe at
Cebu Bar and Bistro – 7 PM (ticketed)
8801 3rd Ave Brooklyn NY 11209-4601
With my Berkley fellow author, Chanel Cleeton and her new release, NEXT YEAR IN HAVANA
Feb 6  LITITZ, PA
Hosted by Aaron's Books at
Bent Creek Country Club – 6:30 PM (ticketed)
620 Bent Creek Dr.
Lititz, PA 17543
Feb 7  PHILADELPHIA, PA
Hosted by Head House Books
Philadelphia City Institute – 6:30 PM (free)
1905 Locust Street
Philadelphia, PA 19103-5730
Feb 9  MYRTLE BEACH, SC
Hosted by Litchfield Books at
Kimbel's Wachesaw – 11 AM (ticketed)
1930 Governors Landing Rd
Murrells Inlet, SC 29576
Litchfield Books – 2 PM (free)
11421 Ocean Hwy
Pawley's Island, SC  29585
Feb 10 ATLANTA, GA
Hosted by Bookmiser at
Milton Public Library – 2 PM (free)
Meeting Room C
855 Mayfield Road
Alpharetta, GA 30009
Feb 20 LA JOLLA, CA
Warwick's Books – 7:30 (free)
7812 Girard Ave
La Jolla, CA 92037
Feb 25 FOUNTAIN VALLEY, CA
Hosted by Adventures by the Book at
The Claim Jumper  – 12 PM (ticketed)
18050 Brookhurst St.
Fountain Valley, CA 92078
Let me know if you will be able to come!