I've been very remiss in feeding the blog of late. Sorry about that. I have a good excuse, one that I hope you will approve of; it's because I've been writing a new book and closing in on the finish line and have been a bit distracted. I'll be sharing more about that in the weeks to come!
I thought I'd pop in today and recap some of the books that I've been reading since the last time I was here. I have in fact been reading a lot of great books, just not reporting back to you (again, sorry!). So here in no particular order are five books I read in the last few months.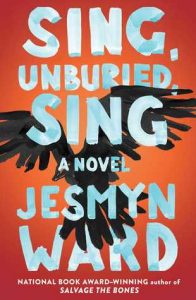 I bought Sing, Unburied, Sing by Jesmyn Ward in an airport bookstore because I was traveling for book-related stuff and ran out of reading material – which is a nightmare to those of us who look forward to uninterrupted hours in an airplane as THE BEST READING TIME in the world. I had seen this novel on some lists and knew that it had been critically acclaimed and so I bought it on a whim and quickly became engrossed in the tale. The protagonist is a young teenage boy who is a member of a particularly interesting but nevertheless flawed family. He's been forced to grow up too soon, taking on responsibility for absent and/or negligent parents. The writing is beautiful and evocative and there are hints of magic realism that really do make the book sing. If you don't like magic realism at all, this might not be the book for you but I loved it.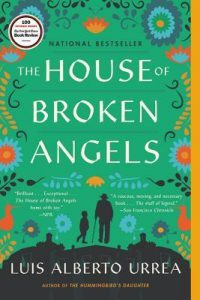 I picked up The House of Broken Angels at the San Diego Festival of Books in August after hearing its author, Luis Alberto Urrea, speak the night before the Festival began. I was entranced with his story and storytelling ability. The book is set primarily in San Diego, where I was born and raised and have come back home to. It's based on Urrea's own life experience about growing up in a family living on the US | Mexico border.  It begins on the eve of the patriarch's birthday celebration. Here's just a snippet from the back cover: "Across two bittersweet days in their San Diego neighborhood, the revelers mingle among the palm trees and cacti, celebrating the lives of Big Angel and his mother, and recounting the many inspiring tales that have passed into family lore, the acts both ordinary and heroic that brought these citizens to a fraught and sublime country and allowed them to flourish in the land they have come to call home." It was a finalist for the Pulitzer Prize and beautifully written. I highly recommend.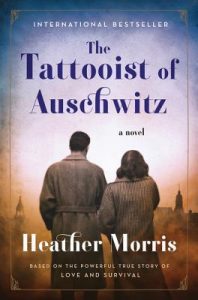 The Tattooist of Auschwitz is another book that I bought in an airport when I had run out of reading material – this seems to be a common thing with me – because it had been on the New York Times bestseller list for a year and I figured it was there for a reason. I did not know it was based on a true story, and of course once I did and once I had fallen into the pages I was completely captivated by it. Stories of the Holocaust are never easy reads but they are necessary ones if we are going to properly remember and honor the humanity of its victims. I was spellbound by this book. When I found out there was a new book by its author about one of the other characters in this book, Cilka, I put it on pre-order straight away. It's now on my bedside table on my teetering TBR pile and I can't wait to get to it.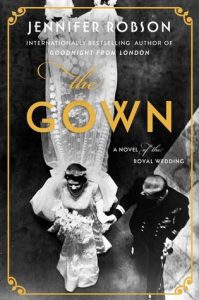 The Gown by Jennifer Robson had been on my TBR stack since picking it up at the Tucson Book Festival in the spring and I'd been wanting to get to it since then. I loved the miniseries The Crown and have pretty much been a UK royalty-watcher since the early days of Princess Diana. (Side note: When we lived in England in the late 80s/early 90s I used to imagine that I'd be in London some afternoon and that I'd spy poor Di being hunted down by paparazzi and I would come to her aid and sneak her into my car and take her back to my house in Oxfordshire for a respite – like Hugh Grant does for Julia Roberts in Notting Hill – and we'd would laugh over American fig newtons I'd gotten at the commissary that we'd been able to dodge the wolves. That never happened of course). Jennifer's book is so lovely, so well-researched and the writing is beautiful and oh, that cover! It's a story about the wedding gown of Queen Elizabeth of course but it's really a story about the women who embroidered it.  A great book.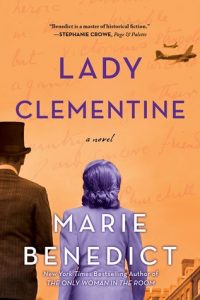 Lastly I read Lady Clementine by Marie Benedict – an early copy of it for endorsement, it's coming in January – and was so enlightened and surprised by what I learned about Winston Churchill's wife. I've always known that behind a great man is usually a great woman, whether it be a wife, sister or mother or friend, and I loved hearing about the role Clementine played in Winston's life, especially at the most challenging moments, when the world was at war and Britain on the brink of occupation. If you like historical fiction that is based on biographical truth you will love this book as well.
So there you have it friends, a nice little recap long overdue and I hope to be able to return next week and regale you with more book recommendations for you. Have a wonderful weekend!