I have mentioned this before, but one of the sweetest things about having the novel-writing gig is the opportunity to read advance review copies of novels-to-come with an eye to providing an endorsement. Over the last couple of weeks I've read two ARCs that I just loved and I know you will too; both are headed your way in mid 2020.
So here on this last Friday of 2019 I will tell you about both. These two novels will be coming your way from my own publishing house, Berkley, but I would've loved them no matter whose imprint is on the spine. Truly.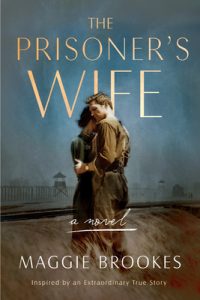 First up, THE PRISONER'S WIFE by Maggie Brookes. It's a debut novel and inspired by a true events that are simply amazing. It's a tale about a secret marriage between a British soldier in occupied Czechoslovakia and a Czech farm girl. On the run after their elopement, the soldier evades capture for as long as he can but Nazi soldiers eventually find him – and his new wife. But the farm girl, Izabel, has disguised herself as a young British soldier made mute by shell shock. The couple are believed to be two escaped British soldiers and are sent to a men's POW camp. The rest of the story is about Bill and Izzy's bravery, cunning, and care for the other POWs in their block (and their care for her), and of course the remarkable resiliency of the human spirit which so often shows up in World War 2 novels. But this is a story you have not heard before and the way in which it is told will have you thinking you are there, facing every obstacle large and small that Izzy and the others face. Devastatingly rich in sensorial detail, it is described by Berkley as a story of "love and survival against the darkest odds." The fact that the premise is based on a real woman who disguised herself as a man to not only be with her husband but to escape the executioner – as such was the punishment for aiding a POW in an escape – makes it a compelling read to the last page. Look for this one in May 2020. (Note: There's currently a giveaway of 100 ARCs on Goodreads! Enter before Jan 9)
Maggie Brookes is a British ex-journalist and BBC television producer turned poet and novelist. The Prisoner's Wife is based on an extraordinary true story of love and courage,  that was told to her by an ex-WW2 prisoner of war. Maggie visited the Czech Republic, Poland and Germany during the research for the book, where she learned largely forgotten aspects of the war. I hope our IRL paths cross someday soon.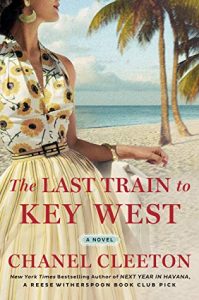 Secondly, I was so glad to be invited to read my good friend Chanel Cleeton's upcoming THE LAST TRAIN TO KEY WEST, after loving WHEN WE LEFT CUBA and NEXT YEAR IN HAVANA. I knew Chanel would be taking the reader on a different journey with a trio of unrelated POV characters and I couldn't wait to see how the separate stories of these three different women would collide. I was thoroughly satisfied with the weave of three story threads!  As a backdrop, Chanel chose Henry Flagler's legendary Overseas Railroad and one of the worst hurricanes in history which pummeled the Keys on Labor Day weekend in 1935. Helen is a Key West native trapped in an abusive marriage; Elizabeth, who is engaged to marry a man she does not love, is looking for her emotionally wounded WW1 veteran brother hiding out somewhere on the Keys; and Mirta, a newlywed in an arranged, post-Cuban-revolution marriage to benefit her Havana family, is on Key West for her honeymoon. The three female characters are compelling figures, each in her own way, and the setting details are engrossing to say the least. The impact on humanity from this 1935 hurricane is astounding, and it's always fitting for a great story to be told to remember a time such as this. Chanel does it masterfully. Her new book will be in bookstores in June 2020. (There's a Goodreads ARC giveaway for this one right now, too!)
Besides being a sweet friend and Berkley chum, Chanel is the New York Times and USA Today bestselling author of a Reese Witherspoon Book Club pick! (Next Year in Havana) Originally from Florida, Chanel grew up on stories of her family's exodus from Cuba following the Cuban Revolution. She has a bachelor's degree in International Relations and a master's degree in Global Politics from the London School of Economics & Political Science. Chanel also received her Juris Doctor from the University of South Carolina School of Law. On top of all that, she is a fabulous writer.
I know it seems like a long way off, but you know how quickly time passes, my friend. Put these on your WANT TO READ Goodreads list and before you know it, the warmer months will be here and you'll be able to read them!
Have a lovely weekend, full of relaxed reading…