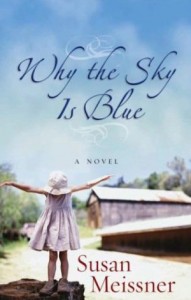 Ten years ago, I went from having a dream to living it. From the time I was a teenager, I had dreamed of writing novels, but surprisingly what I wanted to do most became the most easy thing to put off doing. The list of reasons was endless. I wasn't ready. I didn't know enough. I was too busy raising kids. And then I was too busy at the newspaper where I was editor. It took the death of my Papa, my dad's dad and every kid's dream of grandpa, to shake me up enough to stop making excuses. He died in 2002 at the age 0f 84. I was 42. My life felt half-over because it was. I didn't want to come to the end of my days having never even tried to write a novel.  I wrote Why the Sky is Blue in 2002, searched for a publisher for a year, got picked up by Harvest House Publishers in 2003, and in 2004 – ten years ago – my first book was published. I have been writing them ever since.
This book about a mother and her two daughters (the first being a much-loved, wanted child, and the second, the surprise result of a brutal assault), sadly didn't stay in print as the years went by. Since it was published before the true advent of e-books, when it disappeared from the marketplace, it ceased to exist outside of personal libraries and secondhand bookstores.
But two days ago, this sleeping book was resurrected.  For the first time in its ten-year history it became available as an e-book exclusively on Amazon's Kindle Select, with a beautiful new cover. (I loved the original cover by the way, but it was not mine to continue using, only the words inside still belong to me).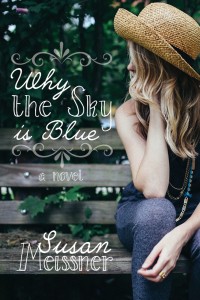 I knew from the get-go people would wonder why I chose Kindle Select. I did this for a couple reasons, the key one being discoverability. Kindle Select will allow me to host special promotions from time to tome that will highly increase my visibility in the netherworld of indie-published e-books. I am hoping that having Why the Sky is Blue for a great price on a very visible platform, including Kindle Unlimited, will mean more readers will discover me and my other novels.
And the cool thing is, anyone with a smart phone, tablet, laptop or desktop computer can read a Kindle book because the Kindle app is free.  You can get the Kindle app for your iPhone or iPad in seconds! I may choose at a later date to dis-enroll the book from this program and publish to all the other formats, which is another benefit. I am not locked into it. My hope is I will gain many, many new readers by using Kindle Select at this time for this book.
I made very few changes in the book as I prepared the old file for its new life as an e-book. Reading this book again for this first time in probably nine years was sentimental, and I was reminded how scary and wonderful it was to attempt to weave 80,000 words of story together.  Coming across quotes like these was nostalgic in all kinds of good ways.
"Sometimes asking God for a reason for something is like asking Him why the sky is blue. There is a complex, scientific reason for it, Claire, but most children, including you, are content with knowing it is blue because it is. If we understood everything about everything, we would have no need for faith."
I hope you will avail yourself of the opportunity to read it again or read it for the first time.  Perhaps you remember reading it way back when and can tell me what it was about it that made you want to keep hanging out with me! Because I am so glad you did. THANK YOU, thank you for being a part of my writing life. You really are the reason I love to tell a story…