It's National Coffee Day, comrades, (as well as my oldest son's birthday) and to mark the occasion, I shall list for you my personal Best Coffee Ever Hall of Fame, in hopes that you will share the love and post your top java picks in the comments section. If you don't like coffee, my condolences. I used to be an infidel in this regard. I didn't develop a taste for coffee until I was in my late 20's and living overseas. It was in Europe, where all the best beans are sent, that I got hooked to the yummy elixir, and which is why I start the list (it is in no particular order ) with: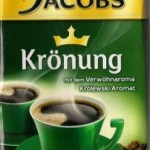 1. Jacob's Kronung, which we discovered while stationed at Ramstein Air Base and living in the tiny farming village of Mittelbrun, was our gateway drug, you might say. We started out as bashful, one-tawny-brown-cup–a day to three cups a day of darky dark in a matter of mere months.  I still love Kronung and am so happy that I can get it at the commissary at our local USMC base and at the German grocery store thirty minutes away. Wunderbar.
2. Caribou Coffee, nearly any flavor but especially Mahogany, is probably the most amazing thing ever to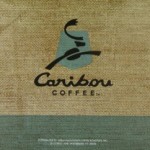 come out of Minnesota besides Paul Bunyan. In Minnesota, there's a Caribou Coffee on every street corner, not a Starbucks, or at least there should be.  When I travel and find myself in a Midwest airport terminal where there's a Caribou Coffee joint, no matter what time of day it is, I stop for a Mint Condition, one of Caribou's signature drinks. I can get Caribou K-cups here in San Diego, but it's not the same as the whole bean kind. We spent a dozen years braving Minnesota's audacious winters – and they were made infinitely more bearable because of Caribou Coffee.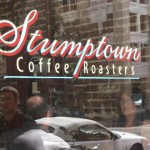 3. A new favorite of mine, from just the last couple of months, is Portland's Stumptown brew, which I had for the first time while visiting Oregon this summer, also for the first time. It's possible my first taste of Stumptown was so memorable because I had paired it with an insanely delicious Maple Bacon Bar at Voodoo Doughnuts.  But we brought home to San Diego a bag of freshly roasted beans, which disappeared pretty much overnight — and without any Vood00 Doughnuts to go with — so it's likely the coffee is fab all on its own.
4. Lastly, this cup of coffee that my soulmate and husband Bob is drinking, is matched by a cup that I am also drinking – across the table from him – and it  was quite possibly THE best cup I have ever had, ever. We are sipping these in a little French town in Provence with severe jet lag weighing on us like a coats of leaden threads. But this cup of coffee, a café au lait of divine origin, was so exquisite, and the company so lovely (we were celebrating our 25th when these photos were taken – nearly ten years ago!) and the church bells so sweet (it was a Sunday) and the croissant so delish, this cup is hard to beat.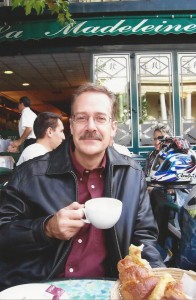 So now it's your turn! What's your favorite cup of Joe or brand?
I am taking notes….