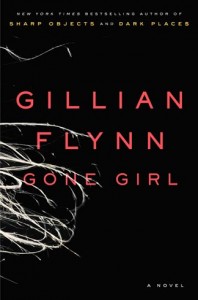 I love a good mystery. Mysteries and me go way back. All the way back to adolescence and Nancy Drew.  I like trying to figure out whodunit before I get to the end of the book and I am always as thrilled as I am disappointed when I've gotten it wrong.
Gone Girl by Gillian Flynn is quite possibly the most cleverly constructed mystery I've ever read.  It's more than a mystery actually. It's a study in human character, a look into the mind of a flawed genius.
Tana French, New York Times bestselling author of Into the Woods said of it: "Gone Girl is one of the best—and most frightening—portraits of psychopathy I've ever read. Nick and Amy manipulate each other—with savage, merciless and often darkly witty dexterity. This is a wonderful and terrifying book about how the happy surface normality and the underlying darkness can become too closely interwoven to separate."
It's hard to get wonderful and terrifying in the same sentence when you're talking about a book.  But I would concur.  The writing is masterful, the plot is psychologically chilling.
The premise of Gone Girl is this:  "On a warm summer morning in North Carthage, Missouri, it is Nick and Amy's fifth wedding anniversary. Presents are being wrapped and reservations are being made when Nick Dunne's clever and beautiful wife disappears from their rented McMansion on the Mississippi River. Husband-of-the-Year Nick Dunne isn't doing himself any favors with cringe-worthy daydreams about the slope and shape of his wife's head, but hearing from Amy through flashbacks in her diary reveal the perky perfectionist could have put anyone dangerously on edge. Under mounting pressure from the police and the media—as well as Amy's fiercely doting parents—the town golden boy parades an endless series of lies, deceits, and inappropriate behavior. Nick is oddly evasive, and he's definitely bitter—but is he really a killer? As the cops close in, every couple in town is soon wondering how well they know the one that they love. With his twin sister Margo at his side, Nick stands by his innocence. Trouble is, if Nick didn't do it, where is that beautiful wife? And what was left in that silvery gift box hidden in the back of her bedroom closet?"
The trailer for the movie looks wonderfully terrifying, as it were. My book club and I are already planning to go see it and then come come home to our normal lives and thank God in heaven none of us are married to a genius psychopath. If you read the book, be prepared for pervasive language. If you're easily offended, it's not the book for you.  I leave with the trailer so you can see for yourself hints of what the story on film will look like. It releases the first part of October. I am most interested to see how the screenplay will let us get into the heads of these characters. It was their inner thoughts that were most amazingly shocking. If you've read it, I'd like to hear what you thought…