I am happy to share two very exciting things with you today. And I will be quick about it because I am deep in revisions for the Hollywood book (will I ever finish this novel!!??) and need to get right back to the writing cave. Don't get bored reading the first bit because there's a fun Mother's Day Giveaway drawing in second bit!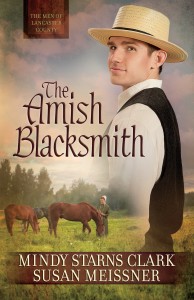 First, it's my pleasure to share with you that THE AMISH BLACKSMITH, one of three books I co-wrote with Mindy Starns Clark, is a finalist for the 2015 Christy Award in the contemporary series category. The Christy Award is like the Oscars for fiction written from a Christian worldview. We are both extremely happy to be nominated. This is one of those instances where it really is enough just to make the short list! The winners of all the categories will be announced at the annual Christy Awards banquet, which will be held this year in Orlando on June 29. You can see the list of all the finalists right here. LOTS of great books here. Two of my favorites are Sigmund Brouwer's Thief of Glory and The Invention of Wings by Sue Monk Kidd.
And now for the giveaway opportunity! Christian Audio has just released the audio versions of A Fall of Marigolds and Secrets of a Charmed Life.  Tavia Gilbert, whose amazing narration of The Shape of Mercy back in 2008 earned her an Audie Award nomination, read for A Fall of Marigolds. Alana Kerr,is a new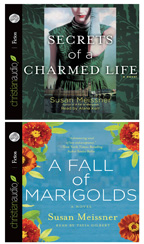 voice for me, but I can't wait to hear her narration of Secrets of A Charmed Life. Alana was born and raised in Belfast, N. Ireland and has a BA in Drama/English from the University of Dublin, Trinity College. I love that she could read all those English voices and sound convincing!
So, in honor of Mother's Day, I'd like to have a giveaway! I will send a set of the CDs of both to two moms. Just enter the Rafflecopter below will all your information and if you are one of the two the lucky winners, I can either send the CDs to your mom or grandmother or favorite motherly person on your behalf, or I can send them to you and you can do the honors of gift-wrapping and distribution. All you have to do is follow the instructions on the Rafflecopter form below. Comment on the blog as per the instructions (say something nice or funny about your mom!), and if you visit and/or LIKE my Facebook page (I post fun stuff there!) you can increase your chances of winning one of the two sets. The drawing starts at midnight tonight (Apr 25) and ends at midnight on Apr 29.  Good luck!