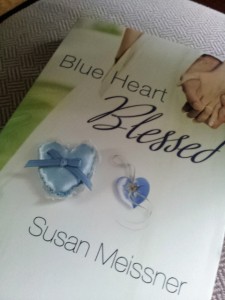 So here's a little story to make you smile. A few years back, I wrote a book about a woman who, after getting stood up at the altar, decides to open a used wedding dress boutique in a brave to attempt to sell her custom-made, dress-of-her-dreams wedding gown. The book, entitled Blue Heart Blessed, was so named because the main character, Daisy, sewed a little blue satin heart that had been blessed by an Episcopal priest, into the inside of each dress she sold, so that those beautiful gowns could be properly repurposed. The story was primarily about Daisy needing to sell her dress and her inability to let it go, but in the meantime, she helped lots of brides find beautiful dresses, each one with a tiny blue heart stitched inside.  The uptown boutique was called Something Blue and I situated it in St. Paul. (The book is sadly no longer in print, but it is available as an e-book for a great price and has a fun, new cover!)
Last week, when I held a little contest on my Facebook author page where I offered a print copy of Blue Heart Blessed to a lucky winner who correctly guessed the year I got married (based on a very hip-looking pic of my hubby and me). One of the responses was from a lovely reader named Sarah. Sarah told me that she had loved Blue Heart Blessed when she read it, and that her story was similar to Daisy's. And she found herself wanting to re-christen a beautiful wedding gown that she had not yet worn as a bride.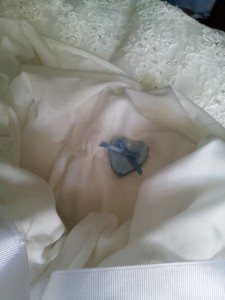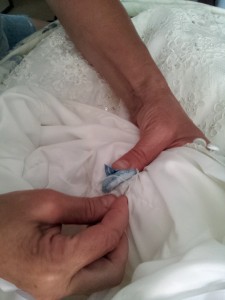 She wrote: "My first engagement was much like Daisy's – we already had the dress, the photographer, the banquet hall, the decorations…and after it ended, I didn't know what to do with my dress. That's when my mother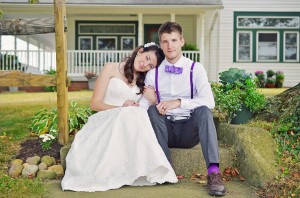 suggested making a blue heart. We made a blue heart for my wedding dress and asked my Uncle (who is a pastor) to bless it. I just recently got married in September and we sewed my blue heart into my dress as it was a dress I had purchased when I had been engaged several years earlier.  Now, after meeting Andrew, I understand that God has a perfect plan for me and that I just needed to wait and trust in Him."
She sent me these lovely photos and was so sweetly generous to let me post them here. Thank you, Sarah! And congratulations!