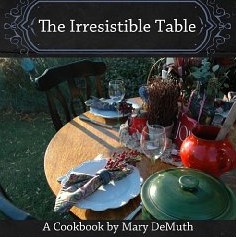 My dear friend Mary DeMuth, writer, friend and cook extraordinaire, has put together a cookbook in her where-does-she-find it spare time and it just went on sale. I've been a guest at the DeMuth table and I can tell you, Mary knows how to wrangle awesome edibles out of her kitchen. I just got the book in the mail and I already can't wait to make her Nutella crepes (after Lent, of course!)
Says Mary: "This is actually my second cookbook. My first cookbook was the first book I ever published. It was called The Giving Home Journal cookbook and no longer exists. I created it in the mid 1990s. The reason I published this was my dear friends who bought the first cookbook kept bugging me about making another one.
"You may not know this about me, but I love to cook and have been cooking since I was a young teen. My parents worked late shifts, leaving me as an only child to fend for my own meals. I grew tired of ramen, so I started cooking my way through The Better Homes and Garden cookbook. I'm solely self-taught and I've made plenty of mistakes."

Mary has had her recipes featured in Bon Appetit, The Dallas Morning News and Women's Day.
Her cookbook is 150 pages and includes appetizers, drinks, breakfast, bread, veggies, dessert, meat, pastas, soups, salads and much, much more.
"These are exclusively my recipes, developed and adapted by me," Mary says. "Hundreds of people have eaten around my table."
I count it a blessing to have been one of those hundreds.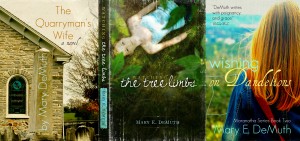 And here's an added bonus: You get three free novels if you buy between today and February 28th.
Simply send an email to Mary@MaryDeMuth.com with your electronic receipt for The Irresistible Table, and she will send you the PDFs to her first three novels: Mary's novels are delicious, too by the way.
Win-win! Enjoy…