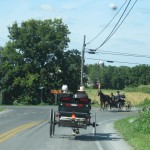 Word of mouth is and will probably always be the best way to get the word out on a new book. With that in mind, I've a question for you. If you like books with Amish characters or books in an Amish setting, if you like stories that dovetail faith, hope, and love, and if you are a fellow writer or aspiring writer of if you have a blog or are active on Facebook or influential in your book club or if you just love to get the word out on new books, I would like to chat about sending you a copy THE AMISH CLOCKMAKER for you read and then chat up wherever you have social contact. It's my favorite one of the three-book series that I wrote with my good friend, Mindy Starns Clark and it comes out in February 2015.
This is the third and last installment in the Men of Lancaster series that Mindy and I co-wrote and it's the perfect blend of what she does best, mystery, with what I do best, dual-time period plots. Here's the story in a nutshell:
"Newlywed Matthew Zook is expanding his family's tack and feed store when a surprising property dispute puts the remodel on hold—and raises new questions about the location's mysterious past.
Decades earlier, the same building housed a clock shop run by a young Amish clockmaker named Clayton Raber. Known for his hot temper, Clayton was arrested for the murder of his beloved wife, a crime almost everyone—including his own family members—believed he'd committed, even after charges were dropped. Isolated and feeling condemned by all, Clayton eventually broke from the church, left Lancaster County, and was never heard from again.
Now the only way Matthew can solve the boundary issue and save his family's business is to track down the clockmaker. But does this put Matthew on the trail of a murderer?
A timeless novel of truth, commitment, and the power of enduring love, where secrets of the past give way to hope for the future."
Comment below if you're interested and I will email you so we can chat.  Have a great weekend!