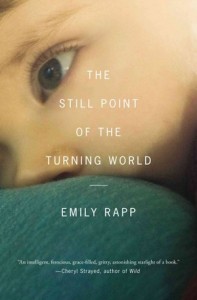 Have you ever picked up a book that you knew was going to flatten you emotionally and yet you read it anyway? Willingly?
I know a great many people read to escape so why, therefore, would I want to read something that will have me ripping Kleenexes out the box and wishing the planet wasn't such a broken place? I can only say sometimes I read to reflect and ponder, and that it's good to be reminded that when love takes us to the crucible we re-learn how much love defines us not how hot the fire was.
I am adding "The Still Point of the Turning World," to my To Be Read stack even though I know it's the heart-wrenching memoir of a young mother who lost her precious little boy to Tay-Sachs disease, a rare and congenital condition that is always fatal. As in, always. Children with Tay-Sachs lack an enzyme responsible for breaking down specific chemicals in the nerve cells of the brain. When these chemicals aren't removed,"they build up, and the child loses his or her ability to function. Seizures and loss of sight and movement are all symptoms of the child's body shutting down."
I read this excerpt, which just about tore me in two, and that actually clinched it for me.  I have to read the rest. I have to know what it was like for this mother to walk that road and come out on the other side, even if I would approach the same quest from a different faith. I believe those I love and who love God like I do will be forever with me in heaven. Could I survive an ordeal like this one if I didn't? I'm thinking no. . .
In this interview, author Emily Rapp says:  "One of the things about having a terminally ill child is that you start to understand and really absorb your own mortality and the mortality of every single person that you love, and that is really terrifying, but it's the truth." Elsewhere in the interview she shares that there is no afterlife in her worldview. How does she cope? I have to know.
Life is as fragile as it is precious. Just reminding myself of this as a I write this makes me want to toss out every little inconvenience I am currently whining about and hug my four adult children. I admit I am a little afraid of that "still point" in the turning world that is the risk of loving people. But love is still worth the risk, don't you think?