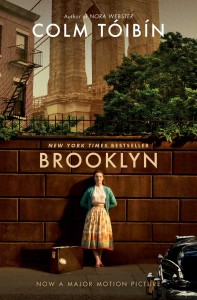 I used to be of the camp that the book is always better than the movie — always. But I'm starting to realize that moviemakers have done their homework over the last 20 years; they now insist on compelling scripts and better attention to detail, nuances, and characterization. Coupled with that, the art of cinematography is now so advanced it is allowing Hollywood to bring a novel to life in marvelous ways that just weren't possible before.
All that preamble is because I need a good reason to have liked Brooklyn the movie better than Brooklyn the book. The book was readable, enjoyable, but all the while I was immersed in the pages I was wondering when would the part come that was so amazing it's the reason why it was made into an Oscar-nominated movie.  That moment never came for me. The prose was simpler than I like, simpler than I write. Perhaps simple isn't the right word. A fellow reader on Goodreads said the book was "awash in grey when I wanted vibrant color." I think that's what surprised me the most about it; the writing didn't tantalize my senses, didn't leave me lingering on sentences that were so delicious I had to read them twice.
I saw the movie halfway through reading the book and honestly, watching the movie helped me better appreciate the characters. I'm disappointed that I had a hard time emotionally bonding with them via the book alone. And I now I am left wondering if I am missing something profound that it took a screenplay and a screen and actors and music and camera angles to so beautifully bring this story to life. Those who bought the film rights surely saw this book's raw potential, and the aching story of love and purpose and belonging that lurked quietly on that seemed to me unseasoned pages.  I overlooked that somehow and that perplexes me.
I get that books are like cuisine. I might say something is wicked spicy and another might taste the dish and say please pass the Tobasco. But still. A book that gets cinematic attention should be the kind of book that grabs us by our emotional lapels and doesn't let us go. At least that's what I've always thought. Is it just me? Did I miss something big with this book?
What say all of you? I would love to hear from you…