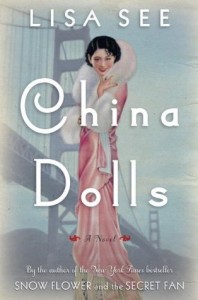 I fell in love with Lisa See's writing with Snowflower and the Secret Fan back when my book club read it in 2008. I've read every book she's written since then and loved them all (even Peony in Love; a desperately sad story and yet still the prose delighted me). I compare all her books to Snowflower and have never come as close to saying I loved any new book of hers as much as that one until now. China Dolls, hot off the press, was a fascinating read, set in a time period I am currently researching for my own writing, and one that stayed with me long after I turned the last page. I wish I could give it 4 1/2 stars on the GoodReads system.
Here's just a bit about it, from the novel's BookList review: "The lives of three young Chinese-American women—Grace, Helen, and Ruby—intersect in valuable and often violent ways in pre-WWII San Francisco as they shed their drab former lives to become glamorous entertainers at the city's rising hot spot, the Forbidden City nightclub. Despite their divergent backgrounds, a mutual desire to shatter the cultural stereotypes that doom them to lives of familial subservience feeds their ambition to prosper in a world in which the definition of success changes minute by minute. Though they've taken a 'one for all' vow of eternal loyalty, each harbors secrets that cause a pervasive atmosphere of distrust to simmer just below the surface. When Ruby is revealed to actually be of Japanese heritage and deported to an internment camp, their friendships and fortunes suffer a mortal blow, one that only deepens as the war rages on. In her impeccably researched and distinctive historical saga of desire and ambition… See again lavishly explores the thorny intricacies of female friendships."
The book is written in first person point-of-view with alternating narrators, which I happen to love for story construction. The voices of Ruby, Grace, and Helen are distinctive and believable. I admit I was taken aback at first by the storytelling skills of these women, and the less-than-lyrical quality of their narration. I like to be whisked away by a character's literary voice and these women possess what I can only describe as ordinary voices. I had to remind myself that they aren't the Bronte sisters. They are showgirls and I would guess the voices Lisa See gave them to tell us their story had to be these. If these young women were to sit across from you in a coffee shop and tell you their story as they had lived it, this is how they would tell it.
I had the wonderful opportunity to hear Lisa speak about China Dolls at Warwicks Books. Getting the background on how these characters were fleshed and formed in her creative mind was intensely interesting for me, not just as a reader but as a writer, too. In addition to peopling her books with multi-layered characters, Lisa is a master researcher; reading one of her books is like suddenly becoming smarter about culture and history. If you get the chance to hear Lisa speak about any of her books, you should take it.
Did I love it as much as Snowflower. Well, no. But is it up there among my top Lisa See books? Very much so.