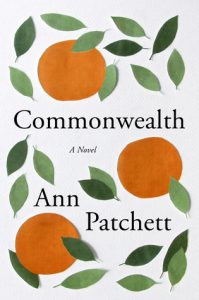 I've been a fan of Ann Patchett since Bel Canto many years ago. She is a master artist of the written word and as clever and insightful as they come. So naturally I was a happy clam when I got my hands on her newest, Commonwealth.
The story starts out at a christening party where two families are present. From that afternoon and across the next five decades, the individual lives in these two families will overlap. The pages quietly but evocatively explore the wonderful and wily way stories are shared between family members. The back cover says, and I love this, "Commonwealth is a meditation on inspiration, interpretation, and the ownership of stories. It is a brilliant and tender tale of the far-reaching ties of love and responsibility that bind us together."
I had the rare and amazing opportunity to hear Patchett speak about the writing of this book at an event hosted by my local indie bookstore, Warwick's Books.  She had my mom and me and the other 300 people in the venue in stitches and in tears as she cleverly spoke of the autobiographical quality of the story – it is crafted on her own family history. How like family life – to be laughing so hard your sides ache one moment and then huddled together in tears the next as you console each other over a shared loss.
I am impressed any time a writer can take me on a story journey that is quietly impacting, sublimely demanding. I tend to write novels that have a more overt story arc, and usually about a protagonist who wants something and who faces a clear obstacle in her quest to have it. That's the story. Ann Patchett is able to write a tale that makes me primarily ponder the art of living, rather than the art of storytelling.
I think what I found the most delicious was that every chapter read like a short story. Amazing, really, how Patchett was able to do that. The bigger story was always being told, but no chapter was wholly dependent on the one before it or the one after.  That, to me, is flawless story-crafting and I now I am itching to try my hand at it.  Some books I love because of their structure more than anything else. This is now one of them, along with The Art of Racing in the Rain, Life After Life, Life of Pi, and All The Missing Girls, and The Good Girl.
Did I love it as much as Bel Canto or State of Wonder? Hard to say. It's a different kind of book. A Goodreads reader said of Commonwealth, "If there's a grand theme in this novel, it's this: who owns the stories that compose a life?…What is public and what do we keep to ourselves?"
That, to me, sheds a lot of light on how this novel is different from most I read and certainly every novel I've written. It asks a different question.
Another Goodreads reader said this: "There are no surprise endings, no hidden lessons, no zombie apocalypse. Just the slow burn of daily life as the characters make mistakes and learn from them, trying to piece together a meaningful existence like the rest of us."
The oldest definition of "commonwealth" is "the general good." We live our lives, short or long, woven into the fabric of a family, good or bad, and we quietly want this for our little tribe: a general good. Life is the pursuit of it.
Highly recommended.