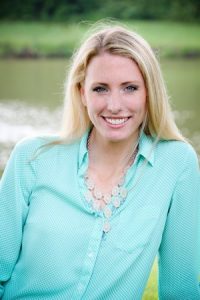 Dear friends, I am so happy to have fellow author Katie Ganshert in the bloghouse today. We're going to be talking about her brand new nove, NO ONE EVER ASKED, which releases today! Make sure to read to the end so you can see how to enter the drawing for a copy of this timely novel. (So sorry that we can  only accommodate a winner with a US mailing address.)
SM: So, Katie. What is this book about in a nutshell?
KG: NO ONE EVER ASKED is a story about three very different women whose lives are brought together when an impoverished school district loses its accreditation and the affluent community of Crystal Ridge has no choice but to open their school doors. Camille Gray is the wife of a corporate executive, mother of three, and a long-standing PTO chairwoman. Jen Covington is a newly adoptive mom who's struggling with a happily-ever-after so much more difficult than she anticipated. And Anaya Jones is the first woman in her family to graduate college and a brand new teacher at Crystal Ridge's top elementary school, unprepared for the powder-keg situation she's stepped into. It's a story that explores the implicit bias impacting American society, and asks the ultimate question: What does it mean to be human?
SM: I love ultimate questions! I love it when they appear in subtle sentences in great novels. If someone asked you what does it mean to be human, how would you answer?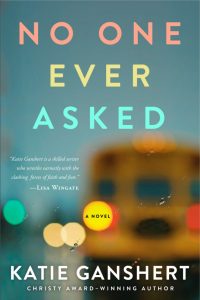 KG: Oh, man. There's a myriad of answers to that question! I think in the context of this book, I would have two answers: to be human means to be made in the image of God. Which means that all of us–no matter our beliefs, our lifestyle choices, our political affiliations–have intrinsic value, and deserved to be treated as such. I would also say that to be human means to be complex, and that complexity is irrevocably shaped by our unique experiences.
SM: The book starts out with the startling observation that at the turn of the 21st century, education for black students was more segregated than in 1968. Wow. Tell us more.
KG: I did a lot of research for this book, probably more than all my others combined. Part of my research involved putting together a comprehensive timeline of events regarding school integration. At first glance, it doesn't seem like that opening statement could possibly be true. 1968 was only eight short years after Ruby Bridges became the first African American child to integrate a white southern elementary school—an act that received so much violent backlash among white people that young Ms. Bridges had to be escorted into the building by U.S. marshals. But when you look at the entire chain of events, from Brown v. Board to now, it slowly becomes understandable. You can see how a string of policies and decisions have led to the situation we find ourselves in currently. I wanted to pull some of those timeline events into the story, even if only in a small way. So they show up as bites of information throughout, complimenting various plot points in the novel.
SM: One of your main characters adopts a girl from Liberia. Is your own adoption experience as a transracial family similar to Jen's?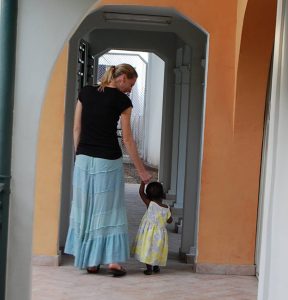 KG: a lot of similarities, and a lot of differences as well. We adopted our daughter when she was a couple months shy of three, which isn't the same as adopting a seven-year old. Our daughter also has some very unique special needs, which make our stories quite different. A lot of the struggles Jen has with Jubilee (her daughter) aren't the same struggles I've had with my daughter. What absolutely is similar, is the fact that we both struggled. I think this is true for many parents who adopt internationally—especially when that adoption takes a painfully long time. For so long, you are fervently praying for and dreaming about this child you don't actually know. And then one day, this child you loved so desperately from afar is up close and personal, under your roof, and you are essentially strangers. Not only that, they are grieving the loss of so much, with very real trauma in their past, and that trauma doesn't manifest itself in pleasant, lovely ways. There's often this sense of guilt, too, because God just answered one of your most desperate prayers, so you should be filled with gratitude, right? And your story is so inspiring to the people on the outside looking in. But for most families, attachment takes time. It's something you have to fight for. The days, weeks, months afterward can be very isolating. This is the piece of Jen's story that is similar to my own. As well as the struggles that come with being a white mother to a black daughter—such as the learning curve that comes with hair care, or the desperation one feels to give their child mirrors (people in their life who look like them). Representation is so important. As a trans-racial family, you become quickly aware of how segregated we still are as a society.
SM: What does the title refer to in terms of the story (if it's not a spoiler, of course)? What is it that no one ever asked and why does that matter?
KG: It's a little bit of a spoiler. I'd rather the reader discover this as they read. I'll just say that one character references the title first, but it's not the last time the title is referenced. And when it's referenced again, the title takes on a deeper meaning – or at least a broader one.
SM: What did you learn about yourself or others while writing this book?
KG: This story really brought home to me the fact that no one person, myself included, is all one thing or the other. All of us are complex people with complex histories and experiences, which indelibly shape the way we look at ourselves, others, and the world around us. I also learned that racism runs deep in the fabric of our society, and if we're ever going to honestly address that, we have to be willing to listen to perspectives and experiences that are unfamiliar and different from our own.
SM: What do you hope your readers will come away with after reading NO ONE EVER ASKED?
KG: I don't think there's any one message I want readers to take away with them as much as I just want hearts to be impacted. I hope the last page of NO ONE EVER ASKED will find hearts softer than the first. I hope eyes will be opened, defensiveness will crumble, and ears more willing to listen.
SM: So what do you think people need to see more clearly and be more willing to listen to? What needs to change for that to happen?
KG: I think people need to see racial injustice more clearly, and I think they need to be more willing to listen to voices that haven't historically been listened to (black voices, female voices, any voice that has been shoved off to the margins). I think we need to get more intentional, and humble. We need to set down our defensiveness. We need to be willing to consider that just because something isn't a reality for us, doesn't mean it's not a reality for others. We also need to stop villainizing the "other", whoever that "other" may be.
Susan here. Thanks, Katie, for a great interview! Readers, if you want  to keep in step with Katie, you can subscribe to her Stay in the Loop email list for all the latest news, as well as exclusive giveaways. You can sign up on Katie's website, www.katieganshert.com.
And now for the giveaway! Just leave a comment below about why the premise of this book interests you and your name goes in the hat for a randomly-drawn winner of NO ONE EVER ASKED. Just be sure to comment before 11 AM Pacific on Friday. That's when I will have random.org draw a winner. And just before we go, here's a fabulous book trailer that sheds more light on Katie's book and why she wrote it and why we should all read it: