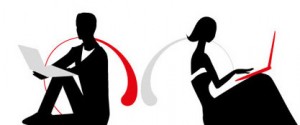 A few years back I had the pleasure of befriending a remarkable writer, blogger and human being, Lisa McKay. She and her newish husband lived near Los Angeles back then and we had one lovely double date with our husbands before Lisa and Mike moved to Laos where they have been living the last three years. (Her equally admirable husband Mike works for World Vision).  At that lunch, I asked to hear the full story of how they met and fell in love, because I had known from a previous conversation that their romance blossomed and grew over hundreds of email messages, courtesy of the thousands of miles that stood in between them.
It was a GREAT story, the kind that rom com movies are made of.  A couple years and one cute little baby boy later, Lisa penned their story in her e-book, Love at the Speed of Email.  (In case Lisa is a new name to you, she's a psychologist and native Australian with masters degrees in Forensic Psychology and International Peace Studies. She has worked in a maximum-security men's prison, with a police department, and for many years as a stress management, resilience, and communication skills trainer for humanitarian workers.) I was happy to see their story available for everyone to read.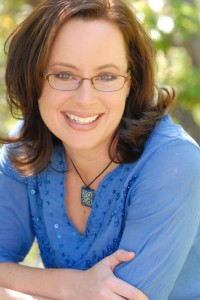 Now Lisa has embarked on a new project, Modern Love Long Distance, to encourage those in long distance relationships because amazing things can happen when you stay the course. Her brand new website, which is omigosh fabulously wonderful on the eyes, has everything a couple needs to date from afar.  She's got a great blog and lots of tips and resources.  And joining the community is free – always a great thing.  I asked Lisa to tell me a little bit more about her new brainchild:
ME: How long have you been wanting to do this project?
LISA: I've been working on this website behind the scenes for about a year now. The idea came to me after publishing my memoir, Love at the Speed of Email. Among other things, that book tells the bizarre story of how I met my now-husband, Mike, via email, while he was living in Papua New Guinea and I was living in Los Angeles. We got engaged seven months later, after spending only 20 days in the same country.
After reading the book, a surprising number of people told me that they'd recommended it to friends who were in long distance relationships. I started thinking about how few resources there are out there for the growing number of people who are in long distance relationships, and how much experience (both good and bad) I had in long distance relationships and the rest is history.
And by history I mean a year of working with a graphic designer, a website programmer, and a growing team of long distance relationship veterans to prepare the website, Facebook page, twitter profile, and lots of material to carry us through the launch months. This sort of forward planning was doubly essential given that I am now also due to launch my second child within the next month.
ME: Congrats on the new addition! So what's one myth about long distance relationships that you love to debunk?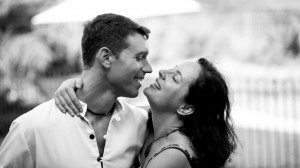 LISA: Great question. I guess the biggest myth I love to tackle is that long distance relationships just can't work. They can. And more and more research is emerging that many long distance couples aren't just in a holding pattern while they're separated but can grow closer and stronger in important ways. For example, you often hear couples (and psychologists) talk about how being separated can force you to be more intentional and careful in your communication. Working hard at communicating like this can yield big benefits down the track when you're living in the same place.
Another myth that's widespread is that your partner is much more likely to cheat on you if you're in a long distance relationship. What research has been done on this suggests that this is not the case and that if there is a risk of increased cheating, its slight.
ME: What relationship-building advantage is there is to the typical mile-apart dating scenario that you don't get with same-place dating relationships?
LISA: I talked about how you can learn to communicate more carefully and thoughtfully when you're in a long distance relationship. Being separated can also teach you to put things in words that you might not bother to tell your partner about if you were comfortably settled in a same-city routine. And if you're feeling hurt or frustrated you need to learn to discuss it. When you're in a long distance relationship you don't have the luxury of relying on someone to read your body language and know what's wrong. All of this can happen in a same-city relationship too (in fact, it's good if it does). But when you're miles apart you have no choice. You have to learn to communicate what's going on in your life and your head or you won't have much of a relationship, because communication is literally all you have.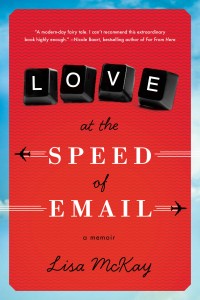 Another advantage, especially to those relationships that start across distance, is that you're less likely to confuse lust with love. Attraction in a long distance relationship tends to be based on a foundation of emotional intimacy, and shared values and interests, rather than just physical intimacy. This is not a guarantee of long term relationship success, but it helps.
ME: Thanks for "stopping by" to chat, Lisa!
LISA: Thanks for having me, Susan. And if you're reading this, I'd be grateful if you could let your friends know about Modern Love Long Distance. You might be surprised to learn how many friends you have who are in long distance relationships at least part of the time.
Question of the day, readers: Have you ever been in a long-distance relationship? What advice would you give? Or maybe you are in one right now? What has surprised you the most about dating over distance?