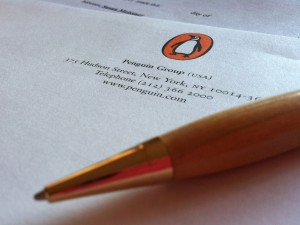 This morning I signed my name on the dotted line of a new adventure in my writing career. After several months of behind-the-curtain work, I am thrilled to share with you that my next two  novels will be with Penguin/NAL.  The first one,  A FALL OF MARIGOLDS, will hit bookstore shelves in February 2014.
I am also so happy to say this book will be a blend of historical and contemporary story-lines, just like my last five; a style that  I've come to feel very much at home with.
The move is a happy and bittersweet one. I've had a wonderful experience with my last publishing house and have had the privilege of working with an amazingly gifted editor. But I feel that each step I've taken on this journey– since my very first contract when I was unagented and unknown — has been to broaden my vision for the reader I am writing for.  To think bigger. To reach farther. To find those readers who are looking for the kind of story I like to tell.  My new editor at Penguin is also superbly intuitive and wise and I am already incredibly grateful for her insights on A FALL OF MARIGOLDS.  And the best part is, I am still me. Changing houses does not mean I have to change who I am or how I craft a story.
I've always approached the faith element of my novels with a subtle hand, by intention. I liken my style to the Book of Esther, an amazing clutch of pages  in the Old Testament where the faith element is as understated as you will ever see it in the Bible. It's so subtle that God is never mentioned, and yet the story is an amazing one, full of the moralistic plot elements that make for a memorable story peopled with empathetic characters. I write for the reader who wants that kind of story.
May I just whet your appetite with a few of the details of A FALL OF MARIGOLDS? The historical thread is this: It's 1911 and Clara Wood is at last living the New York City life that she's always wanted. She is not expecting to fall in love with Edward Brim on her first day at her new job as a nurse, nor is she ready for that love to be shattered when Edward is one of the dozens who jump to their deaths in the Triangle Shirtwaist Fire only two weeks later. She exiles herself to a place where the life she might've had can hang suspended in the in-between world that is Ellis Island's immigrant hospital. Clara meets Andrew Gwynn, a Welsh immigrant whose new bride Lily – a woman he barely knew before marrying her – died of scarlet fever aboard ship. Clara feels a kinship within their common grief as both she and Andrew loved and lost someone they'd known for mere days. While nursing Andrew back to health, Clara learns Lily is not who Andrew thought she was. Now Clara must decide if she will tell Andrew the truth or let him grieve something he never truly had. The contemporary framing is one hundred years later.  It's the year 2011 and it's mere days before the tenth anniversary of 9/11. Taryn Michaels, a single mother who was made a widow that terrible day, is reunited with a century-old scarf that had been handed to her minutes before the first plane hit the World Trade Center, a scarf that at one time belonged to an Ellis Island immigrant whose wife died aboard the ship that brought him to America…
The story is not about what it is like to lose someone you love; it's about trusting in love enough to risk embracing it again after grief.  Loss makes us careful. It can also make us fearful.  Fear and love just don't belong together. Too much of one and the other begins to disappear. I will be sharing more about what I have been learning about this theme, the Triangle Shirtwaist Fire, 9/11, and  Ellis Island during the writing of this book as the months progress. In the meantime I hope you will be as looking forward to A FALL OF MARIGOLDS as I am to share it with you.
Here's to the future!