I have, admittedly so, been very BAD about feeding this blog. I walked into it this morning to its emaciated form and it asked me who I was. Yikes. I take full responsibility for creating this blog child and then neglecting it, but I also know that YOU know that life can get really busy really fast. And also, sometimes I just don't think I have anything important to say.
I have realized though, though I always have something to say about books. Always. I am always either writing one, researching one, reading one or buying one. So my new plan is to pop in every Friday and share any book news here that I think would be of interest. Sometimes I'll talk about what I've read or am reading or want to read, sometimes what I am researching, sometimes what my author friends are working on and always any good deals or giveaways you will want to know about.
What I read last week:
WOMAN IN THE WINDOW by A. J. Finn is a page-turner a la GIRL ON A TRAIN. Here we have an agoraphobic woman who sees something terrible happening at her neighbor's house through her window but she can't prove it happened. And who's going to believe this child-therapist-turned-nutcase-agoraphobe who drinks too much? I gave it 4 stars leaning toward 4.5 because it was definitely compelling. There were a few bits that I couldn't quite fully embrace, but if you want suspenseful entertainment, this will deliver.
If you're thinking you don't want to read another GIRL ON THE TRAIN book, here's Finn describing how his take is different. This article also states that Finn "was inspired to write THE WOMAN IN THE WINDOW after his own battles with severe depression…"I wanted to explore what I've been through," he said. 'Writing is a great way to guide this character through her own dilemma and bring her to a better place.'"
Here's how Goodreads describes Finn's book: "Anna Fox lives alone—a recluse in her New York City home, unable to venture outside. She spends her day drinking wine (maybe too much), watching old movies, recalling happier times . . . and spying on her neighbors. Then the Russells move into the house across the way: a father, a mother, their teenage son. The perfect family. But when Anna, gazing out her window one night, sees something she shouldn't, her world begins to crumble—and its shocking secrets are laid bare. What is real? What is imagined? Who is in danger? Who is in control? In this diabolically gripping thriller, no one—and nothing—is what it seems."
What I am reading now:
I'm just fifty pages into Georgia Hunter's elegant and and stirring WE WERE THE LUCKY ONES. I had the pleasure of hearing her speak about this book when she was on tour for the paperback release. It has spent months upon months on the bestseller lists.  It was inspired by her own family history, unknown to her until she became an adult. Glamour magazine says of it: "Love in the face of global adversity? It couldn't be more timely."
Here's how Goodreads describes this novel: It is the spring of 1939 and three generations of the Kurc family are doing their best to live normal lives, even as the shadow of war grows closer. The talk around the family Seder table is of new babies and budding romance, not of the increasing hardships threatening Jews in their hometown of Radom, Poland. But soon the horrors overtaking Europe will become inescapable and the Kurcs will be flung to the far corners of the world, each desperately trying to navigate his or her own path to safety.  As one sibling is forced into exile, another attempts to flee the continent, while others struggle to escape certain death, either by working grueling hours on empty stomachs in the factories of the ghetto or by hiding as gentiles in plain sight. Driven by an unwavering will to survive and by the fear that they may never see one another again, the Kurcs must rely on hope, ingenuity, and inner strength to persevere.  An extraordinary, propulsive novel, We Were the Lucky Ones demonstrates how in the face of the twentieth century's darkest moment, the human spirit can endure and even thrive."
I think this one is going to be a stunner.
Booky Stuff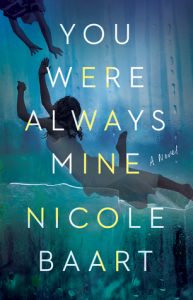 So if you're on Twitter, hop on today to the Atria Books profile and look for today's (Friday's) tweet regarding Nicole Baart's newest book (she's a phenomenal writer and a personal friend). If you retweet, your name will be in the hat for drawing of free copies of  YOU WERE ALWAYS MINE.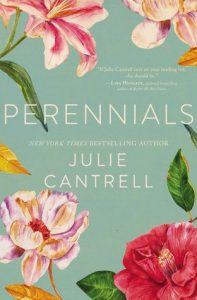 If you're a reader of e-books, you will want to note that the masterful Julie Cantrell's PERENNIALS (that cover is just so gorgeous) is currently just $1.99 on Kindle. Don't know how long that deal will last so I'd hop on it if I were you. I nabbed it and it's now on my e-TBR list as next up. She's the NY Times bestselling author of INTO THE FREE and one of the nicest people you will ever know.
So, there you go, reading friends! A yummy little bit of books news and the blog's been fed and I don't feel quite so lame. Hope you have a great weekend and as always, I love hearing about you are reading!