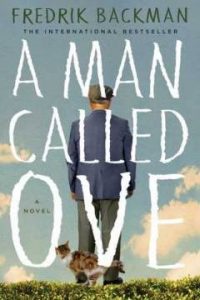 As I type this blog post I am reminded that some of you reading may have entered the drawing for the three books I was giving away. Random.org picked the winner and it's number 38, which was Lynn. Congrats, Lynn! Thanks to all who entered. There will be another giveaway of another new book by a friend of mine in the coming weeks, so stay tuned folks.
Last night I finished Fredrik Backman's A MAN CALLED OVE – finally.  It had been recommended to me so many times. My own book club just read it but I was on a writing deadline then and had to be a flunkatoid and skip out on the gathering to discuss. But the stars finally aligned perfectly and I got to it. What a great book, for so many reasons, including its architecture.
I didn't know too much about the story going into it. I actually prefer diving into a book that the masses love in just such a way. I want to be as surprised as were those first readers, who devoured it, and then were the first to start telling everyone, "You've got to read this book." All I knew was everyone was telling me how wonderful it was. I wisely didn't ask to be told all the details of what it was about. I did hear a bit about its premise when it was chosen for my book club, but it was the barest minimum and I asked no questions.
I won't spoil it for any of you who haven't read it either. I will paste a bit from the back cover just to clue you in on its vibe, although I haven't read a book quite like this one before:
Meet Ove. He's a curmudgeon—the kind of man who points at people he dislikes as if they were burglars caught outside his bedroom window. He has staunch principles, strict routines, and a short fuse. People call him "the bitter neighbor from hell." But must Ove be bitter just because he doesn't walk around with a smile plastered to his face all the time?

Behind the cranky exterior there is a story and a sadness. So when one November morning a chatty young couple with two chatty young daughters move in next door and accidentally flatten Ove's mailbox, it is the lead-in to a comical and heartwarming tale of unkempt cats, unexpected friendship, and the ancient art of backing up a U-Haul. All of which will change one cranky old man and a local residents' association to their very foundations.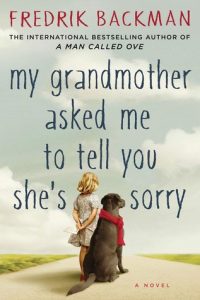 It's a book that affirms life and all that makes living so wonderful, even though to live fully is to fully experience love and loss. To love someone is what makes you human and not a beast. I know it's been made into a movie – I haven't seen it yet – but please do yourself a favor and read the book first. These characters are ones to cherish; they're the kind to inhabit your heart and soul before you see them on a screen. If you've read it, I'd love to hear your thoughts.
And now I must add Fredrik Backman's BEARTOWN and MY GRANDMOTHER ASKED ME TO TELL YOU SHE'S SORRY to my TBR tower. I hear they are also wonderful.
Have a nice weekend, everyone.