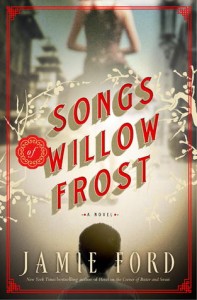 Ever since finishing The Hotel on the Corner of Bitter and Sweet by Jamie Ford a few years back, I had been one of those standing anxiously in line for his next one. (If you've not read Hotel, you really need to examine your To Be Read priorities!)  So of course I was very happy to hear that Songs Of Willow Frost  was coming our way in 2013 and not only that, but also that Jamie Ford would be at Warwick's Books in San Diego's beautiful gem La Jolla, to speak about it.
I love talking about the books I've loved but I hate to give too much away in the telling. Reviews matter to me, not just the writing of them but reading them and sharing them and I am always grateful when a reviewer manages to tell me why she or he loved (or didn't love) a book without spoiling anything for me.  I can tell you that just as Hotel  yanked on my heartstrings, so did Willow.  I can tell you that the prose is wonderfully unpretentious and yet deep and luminous, and that there are great lines that you just have to read twice or three times they are so meaningful. I can tell you there are surprises along the way to keep you turning pages and needing to know what is to become of the Chinese-American boy whose mother relinquished him to an orphanage years before and who suddenly sees her on a movie screen in a Seattle theater with a different name.
I can't say I loved it more than Hotel, or even as much, though I did love it. Perhaps it was Hotel's premise that resonated within me to a deeper degree. I admit I have a hard time summoning empathy for women who allow and then stay with men who abuse them. My deepest apologies if I offend anyone by saying that. I am not saying I can't summon the empathy, I am saying it is difficult for me.  But this story, which moves back and forth between William's story and his mother's, is moving and compelling, even in those moments when I, had I been Willow, would have done something very different.
Here are some of my favorite lines:
"She heard the flickering of the shutter, the hum of the lights, and the silence punctuated by the sound of Colin's footsteps, fading."

"The shadow woman inhaled, which caused no small relief to William as he stepped closer. She was clothed in a pale blouse and skirt. The tub was dry. It was as though she were bathing in memory alone. Her fur stole covered her chest like a blanket. Her hat sat in the bottom of the tub, near the drain. William could hear a baby crying in another apartment; somewhere down the hall, though the haunting, desperate sound was gone so fast he might have imagined it."

"It was the words of parents that kept most of the orphans here – the silken bondage of a mother's promise, "I'll be back by Christmas, if you're a good boy." Those mythic words, laced with happy-ever-afters, became millstones come January, when ice deckled the windows and the new boys stopped counting the days and began crying themselves to sleep, once again. After five winters at Sacred Heart, he'd learned not to hope for Christmas miracles – at least for nothing greater than a pair of hand-me-down shoes, a book of catechism, and a stocking filled with peanuts and a ripe tangerine."
Songs of Willow Frost  will tug and tear and tenderize. It's the kind of story that reminds you why stories exist.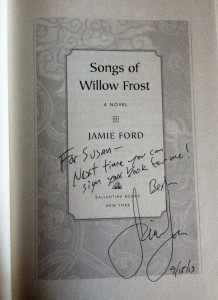 p.s. This line at left in my copy of the book is one that I love, too.