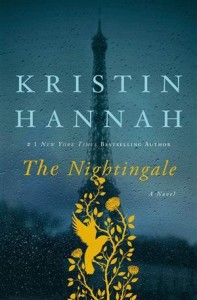 You might have noticed that there have been and continue to be a lot of World War II novels on bookstore shelves these days. This particular setting has always been a storyteller's sad paradise; there are just so many untold tales of the courageous and cunning and clever and cowardly and compassionate. So many little and big backdrops in which to place a character on a quest. I availed myself of this setting for Secrets of a Charmed Life.
I knew when Kristin Hannah's The Nightingale was due to be released that I would grab it up, and not only because it's a WW2 tale, but it's a French Resistance tale (always of interest to me) about two sisters, just as my WW2 is a story about two sisters. The Nightingale was one of those books that I could not wait to get back to. I read for pleasure at the end of the day, and I know I've got a great book when I can't wait for night to fall, for the clock to strike ten o'clock, so to speak, so that I can crawl into bed with the pages.
This book, like All the Light We Cannot See, Life After Life, Those Who Save Us (all five-star WW2 novels in my opinion, is not an easy read. War is a cruel canvas for any story to be told and yet this tale is inspired by true events. This story of two French sisters named Vianne and Isabelle did not really happen but you know without a shadow of a doubt that it could have.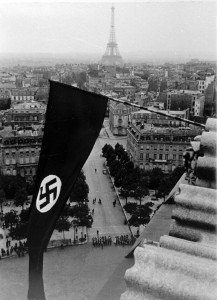 The story in a nutshell is this:  When France is occupied by the Nazis, Vianne Mauriac is forced to board an officer of the Third Reich in her house, and suddenly "her every move is watched; her life and her child's life is at constant risk. Without food or money or hope, as danger escalates around her, she must make one terrible choice after another." Her sister, Isabelle, is a rebellious eighteen-year-old searching for purpose who races headlong into danger and joins the Resistance, never looking back or giving a thought to the real–and deadly–consequences.
Goodreads says: "The Nightingale tells the stories of two sisters, separated by years and experience, by ideals, passion and circumstance, each embarking on her own dangerous path toward survival, love, and freedom in German-occupied, war-torn France–a heartbreakingly beautiful novel that celebrates the resilience of the human spirit and the durability of women. It is a novel for everyone, a novel for a lifetime."
Just a few days ago America quietly noted that it had been 70 years since VE Day -Victory in Europe. Seven decades had passed since the Allies – against incredible odds and a formidable enemy – accepted the unconditional surrender of  Germany's Nazi forces. I was stunned by how noiselessly May 8, 2015 came and went. I think the older we get and the more generations there are removed from WW2, the more out of touch we become with how it changed the landscape of who we are. I am glad for books like this one that will resonate into the future (it's a runaway bestseller right now) so that we won't lose sight of how this season of history shaped humanity.
Highly recommended.