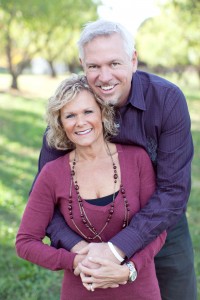 When my good friends and fellow pastors with my husband at The Church at Rancho Bernardo, Pam and Ken Ingold, told me they were going to write a marriage book, I knew they were the perfect couple to pound out words on a topic that has already been written about many times over. (Make sure you read to the end of this post because they're giving away a copy of their new book, When Good Enough Isn't!)
There are a lot of great marriage books out there — does the market really need another? Well, I can tell you why it needs this one. Not only is it full of great content, it's slim! (just under a hundred pages) Let's face it. We live in a busy world where time is precious. Not everybody loves to read outside what they need to for work (shocker, yes, but it's true) and a lot of men just plain don't. That's what statistics say, not me.
But this is a book a busy couple could read together and not get bogged down in. And I would say it's not just for couples in trouble. It's the perfect book for couples to read before there's trouble!
I "sat down" if you will, with Pam and Ken and interviewed them about their new book.  They've been married 35 years and have two grown children and one grandchild. They have been in vocational ministry for the past 17 years, and together have performed over 150 weddings and provided countless hours of pre-marital and marriage counseling, and they love witnessing a broken marriage restored! Here's what they had to say.
What was it like writing a book together?
We have very different writing styles so it was definitely a challenge. It gave us an opportunity to practice what we preach, to truly collaborate rather than compete, concede or compromise.
What was the main reason you decided to write it?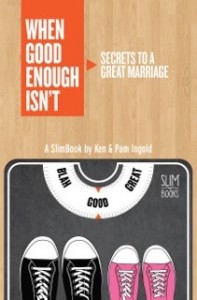 We have counseled couples in crisis for over 15 years, and we've seen some amazing transformations, but those are infrequent. At the same time, we've counseled couples experiencing "slow drift" headed toward crisis and discovered that, with the right tools, a marriage can frequently go from good to great!
What do you think is the biggest threat to keeping a marriage healthy in this day and age? Has it changed from what it was fifty years ago?
The biggest threat to marriages today is the sheer number of distractions, from social media to materialism, to kids activities, to perceptions created through marketing. The bombardment of outside influences has increased exponentially from 50 years ago, making building a great marriage harder than it has ever been.
In your book you wrote: "Expectations set marriages up for failure." What     do you mean by that, in a nutshell?
When you expect something from your spouse and they don't meet your expectation, you're disappointed. If they do, your feelings don't change. When you lower your expectations, you create an opportunity for your spouse to exceed them and you are able to celebrate together.
 That's a very cool concept! Okay, so what's wrong "with good enough"?
Do you remember the good meal or the great one, the good vacation or the great vacation, the good player or the great one? Why should marriage, the greatest institution on the planet, settle for anything less?
Touché. Did you learn anything new about marriage in the writing of this book?
We learned that we're not giving up our pastoral careers! Seriously, we learned our culture has created an acceptance of marriage being good enough and not every couple is going to be willing to do the work that is necessary to make it great. But it's worth it!
What advice would you give newlyweds just starting out?
First and foremost, put Jesus at the center of your marriage relationship, where your marriage is built on a covenant rather than a contract. Secondly, seek counsel from couples with great marriages and utilize the resources available. Third, spend time together – just the two of you! Make sure your marriage remains a priority, before children, while your raising them and when they're grown.
What's next on the horizon for you?
Back to our day jobs and helping couples move their marriages from good to great! We don't sense God calling us to write another book right now, but if we did, it would probably be on parenting.
Susan here: Thanks, Ken and Pam. Readers, if you want to hear more from this wise couple, here's their Real Marriage blog that is full of more marriage-building tips. If you would like win a paperback copy of When Good Enough Isn't for yourself or to give to someone (wedding season is here!), just leave a comment below. A winner will be drawn by random drawing on Friday, May 30 at noon Pacific.  And if you want, include the best marriage advice you ever got, heard, or gave.  Fire away!