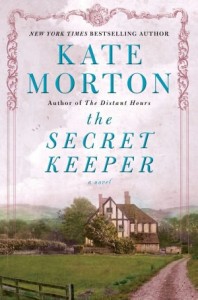 Step into any big bookstore or search the online shelves of Amazon and it's pretty obvious the literary world is full of people who can say they are novelists. An artist produces art, a pianist produces music and a novelist produces a story. But I dare to say that some people are truly storytellers and their novels are more than just pages of escape into some writer's fictive world. A storyteller rises above the title of novelist. Their skill, which joins them to the fraternity of novelists, doesn't just keep them there. It starts there and then rises up to something more. That's how I feel about Australian writer Kate Morton. She's written four novels, all of which I have devoured like a starving waif, and her newest, The Secret Keeper, just might be her best yet. I will have to read The Forgotten Garden again – my previous fave – and get back to you on that.
Morton is a master at the craft. She's witty, smart, and knows how to indulge in just the right amount of details to hold us captive.  She swings through multiple decades with ease, leaving you a little breathless from the travel, but wanting to show everyone your passport so all the world can see where she's taken you. The Secret Keeper is perfectly titled and the ending, which I cannot share here, will have you wanting to applaud the notion that some secrets are meant to be kept.
In a nutshell, the story revolves around Laurel and her ailing mother, Dorothy, two British women with reasons for safe-keeping secrets from the past. From the GoodReads page: 1961 England. Laurel Nicolson is sixteen years old, dreaming alone in her childhood tree house during a family celebration at their home, Green Acres Farm. She spies a stranger coming up the long road to the farm and then observes her mother, Dorothy, speaking to him. And then she witnesses a crime.

Fifty years later, Laurel is a successful and well-regarded actress, living in London. She returns to Green Acres for Dorothy's ninetieth birthday and finds herself overwhelmed by memories and questions she has not thought about for decades. She decides to find out the truth about the events of that summer day and lay to rest her own feelings of guilt. One photograph, of her mother and a woman Laurel has never met, called Vivien, is her first clue.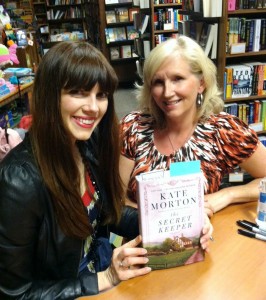 The Secret Keeper explores longings and dreams, the lengths some people go to fulfill them, and the strange consequences they sometimes have. It is a story of lovers, friends, dreamers and schemers, play-acting and deception told against a backdrop of events that changed the world.
I had the  opportunity to meet Kate at my favorite local haunt, Warwicks Bookstore, a few weeks ago and I am a firm believer hers is a rare talent worth celebrating. To hear her talk about the crafting of this story, to clutch my signed copy and take it home with me and then to read it and become lost in it, was a gift.
For those who want a quick, mindless read, save this one for when you have the mental time to be transported. You can't be half there while reading this one because you are busy moving about from decade to decade. The details are what make the ending so delicious you wish you could have seconds, and the big reveal at the end is gold and it's sadly apropos that you can only experience it once.
May I be so boldly punny to say The Secret Keeper is not a secret to be kept. I am telling all I know to get lost in it.