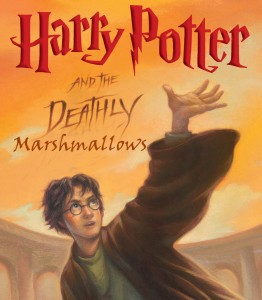 So I'm still hunkering down in the writing cave working on a deadline that is far too close, but it's Friday and I wanted to share a little something with you, dear reader. Don't know if you are on Twitter, but every now and then there will be some brilliant person who comes up with a fun game of renaming classic books with a trending topic and they will hashtag it so that everyone can get in on the fun. That probably makes no sense, so here's what I mean: #Hungrybooks on Twitter looks like this:
The Velveeta Rabbit (Brian Sargent)
And this:
The Time Traveler's Waffle (Dimitri Labarge)
Now you get it! Pretty fun, huh? Okay, here's more:
Midnight In the Garden Salad of Good and Evil (Brianne Kohl)
The Scarlet Pumpernickel (also Brianne Kohl)
Curious Georgia Peach (ash)
Life of Pie (Amanda Wallwin)
For Whom the Bell Pepper Tolls (AgroBioDiverse)
A Thousand Splendid Buns (Rishikesh Tinaikar)
Million Dollar Baby Carrots (Melissa Petrozzello)
Love in the Time of Collard Greens (Mary Mascari)
and my favorite:
The Old Man and the All You Can Eat Seafood Buffet for $4.99 (Lana Johnson)
Okay, now you try!  Here's mine to start. . .
Harry Potter and the Sorcerer's Scone, Harry Potter and the Halfblood Pudding, Harry Potter and the Goblet of Cabernet Sauvignon, Harry Potter and the Deathly Marshmallows.
Now you!