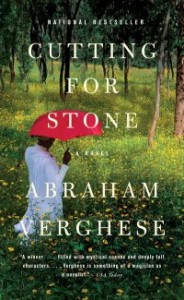 I am in the stage of writing a new novel where I can think of little else. My mind is as cluttered as my desk. It's not a good time to ask me any questions that pertain to matters of life and death or hand me a book that is 650 pages long and not related to research.
So when my book club chose Abraham Verghese's bestselling book CUTTING FOR STONE for this month's read, I had a little pity party inside complete with unblown-up balloons and sagging streamers. I had heard that it was a phenomenal book and that readers everywhere loved it. But at 658-are-you-kidding-me-pages, I knew there was no way I could find the time to read it when I've got ten books about London during World War II that I simply must get to or the writing machine will come to a screeching halt.  I didn't see how I could do it.
I had the book at home already. It had been on my towering TBR pile for a year.  I decided to just give it a go. Enjoy as much as I could, skip the book club gathering for June, come back in July with the next pick, and hope it was do-able.
But I was transported on page 1 to a different place; a place where I couldn't see not finishing it.  I was so drawn to the characters, especially the narrator, Marion Stone, that I simply had to know what became of his life.  As the research books gathered dust, I came to the heady conclusion that perhaps I was preparing to write after all, by reading this novel instead of all those history books. Verghese had done with beautiful but simple prose what I was trying do every time I sat down to write: Draw my readers into my make-believe-world and convince them it's real enough to care about.
The story in a nutshell is this: Twin brothers, Marion and Shiva Stone, are born of a "tragic union between a beautiful Indian nun and a brash British surgeon at a mission hospital in Addis Ababa. Orphaned by their mother's death in childbirth and their father's disappearance, and bound together by a preternatural connection and a shared fascination with medicine, the twins come of age as Ethiopia hovers on the brink of revolution.But it's love, not politics — their passion for the same woman — that will tear them apart and force Marion to flee his homeland and make his way to America, finding refuge in his work at an underfunded, overcrowded New York City hospital. When the past catches up to him, wreaking havoc and destruction, Marion has to entrust his life to the two men he has trusted least in the world: the surgeon father who abandoned him and the brother who betrayed him." (from the author's webpage).
It was an absolutely delicious book, an all-time favorite for me, so rich in sensory details that I can't wait to head to San Diego's Asmara Eritrean Restaurant and try all the food mentioned in the book.
And quotable lines? Lots. Here are a few faves:
"Wasn't that the definition of home? Not where you are from, but where you are wanted"

"The world turns on our every action, and our every omission, whether we know it or not."
"The key to your happiness is to…own who you are, own how you look, own your family, own the talents you have, and own the ones you don't. [Otherwise] you'll die searching, you'll die bitter, always feeling you were promised more. Not only our actions, but also our omissions, become our destiny."
The most amazing thing, and that which I will take away most as a writer, is the deft way Verghese fed me nearly 700 pages of story and left me feeling like I had only just begun to eat when the meal was done.