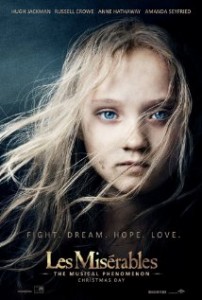 I was one of those people who, when they heard Cameron Mackintosh was in on an upcoming film production of Les Miserables, began counting the days until its release. I had the life-changing experience of seeing the original cast perform this magically engineered musical in London in 1990.  That  experience left me instantly smitten with this version of Victor Hugo's masterpiece. Once you've heard it, the musical score alone will haunt and delight you 'til the day you die. I've seen other stage productions and of course  the sad unCameron-Mackintosh attempt to adapt to film a few years back and nothing has been able to hold a candle to that shining night on the West End twenty-plus years ago.
I was an original cast Les Miz devotee. Junkie. Purist. Fanatic.
As the days neared to this new film adaptation with the original score, I was nearly convinced I would soon have my London stage production in my back pocket, to view it as much as I wanted, because movies go to DVD a year or less after they debut in theaters.  The trailers (this one is my favorite) practically had me singing its praises before I'd even seen it.
So when we settled into our theater seats last night I was breathless with anticipation.
I was not disappointed. But I must confess I was not transported. I loved it. But it was not magical. I didn't want to compare every musical note, every set, every costume, every nuance with the London stage production but I did.   Every stage moment that was most precious to me, and I knew when they were coming because I can sing the score in my sleep, I was on the edge of my seat waiting for it. There were many grand moments but several standout disappointments. If you want to know what a few of them are, keep reading. If you don't, stop right now.
Hugh Jackman was masterful as Jean Valjean, easily my most favorite character in literature. And he can sing. I was amazed at his ability to carry the staggering weight of the music. But he didn't outshine Colm Wilkinson who originated the London role. Not by a long shot. Jackman's  "Bring Him Home," a lullaby-like prayer that Colm sings in his buttery beautiful falsetto, was an achingly lost opportunity. Jackman scraped and screeched those incredibly high notes with no hint of the sweet falsetto Wilkinson mesmerized me with. Take a listen if you want to see what I mean:

I felt the same tender rush of disappointment when Russell Crowe launched into Javert's tortured moments before he throws himself over the bridge. In the stage production, there is no river of course, but the masters of live stage have you believing there is one with an echoing drop into a swirling make-believe Seine that is breathtakingly amazing. Not like the skull-smashing leap that Crowe takes. And no echoing  "There is no way to go on . . . !" which seems to go on and on as Javert escapes from the prison of his hated life.
Anne Hathaway gets the prize for eclipsing the Fantine I saw in London and listen to on my well-worn CDs. Her "I Dreamed a Dream" had me and everyone else in the theater in tears. She was fully believable as a young mother desperate to save her child and living in a cruel world that has nothing but sorrow to offer her. I was also undone by Eddie Redmayne's "Empty Chairs at Empty Tables," too.  So well done.
And I have to say that the live takes, which allowed the actors to fully immerse themselves in the moment, was genius. The stage productions repeat themselves every day for weeks and months on end. I doubt many stage actors can pour the amount of emotion into their roles day after day after day like Jackman, Hathaway, and the others did. The pathos of the film version is raw and intense. Amazingly so.
There were other little things that left me somewhat wanting.  The last scene with Jean Valjean –  which contains the line that is my most favorite in all the world, "To love another person is to see the face of God," –  could've transcended the stage production easily since the film version had no limitations. But it seemed underdone. And the the very last scene was just kind of silly for me. Fantine singing at the Barricade?  No.
If you've seen the West End or the Broadway production of Les Miz, I'd love to hear what you think. Is it just me? I loved the movie. But I didn't LOVE!! it.
Thoughts anyone??