It's my distinct pleasure to welcome to the blog today, my good friend, fellow writer, and fellow San Diegan Annette Hubbell, so that we can talk about her newest work of non-fiction, ETERNITY THROUGH THE REARVIEW MIRROR – How Simple Faith Changes Everything–Seventeen Extraordinary Lives. (Make sure you read to the end to see how to get in on a giveaway for both an audio and print version.)
Annette is a writer and performer who produces and presents historical characters in theatrical settings, like schools, libraries, and museums. Her first book, A SPOONFUL OF GRACE: Mealtime Blessings in Bite-sized Pieces, published in 2017, was awarded the Silver Medal in the 2018 Illumination Awards honoring the year's best new titles written from a Christian worldview. She's San Diego native and has a business degree from SDSU, an MBA from CSUSM, and a Certificate in Apologetics from Biola University.
Being the lover of history that I am, I'm always interested in the people that shaped our past, and this book is all about culture-shapers whose faith played a significant role. Some of the historical figures in this book you've heard of, some perhaps not, and some are maybe people you thought you knew, but you'll be surprised at the influence their spiritual lives had on the legacy they left behind.
Here's the book's premise in a nutshell (homeschoolers out there, this would make a great addition to your source library…)
What in the world do Galileo and Johnny Cash have in common? How about C. S. Lewis and Abraham Lincoln? Pull up a seat and make yourself comfortable; you're about to have a heart-to-heart with once-ordinary people who discovered the secret to living an extraordinary life. "Eternity through the Rearview Mirror" is a collection of spellbinding, first-person conversations with seventeen historical figures. Let the evidence speak as these heroes reveal the secret to eternity's timelessness. These seventeen, all wildly famous in their time-some still famous-speak from their heavenly vantage point. In addition to the four mentioned above, you'll find: J. S. Bach, John Newton, Elizabeth Fry, Sojourner Truth, Harriet Beecher Stowe, Harriet Tubman, George Washington Carver, Amy Carmichael, Mary McLeod Bethune, Aimee Semple McPherson, Corrie ten Boom, Gladys Aylward, and Louie Zamperini.
So without further ado, the interview!
SM: I always like to know where the idea for a book came from. So how about it. Where did you get the idea for ETERNITY THROUGH THE REARVIEW MIRROR?
It's questions like this that make me wish I'd journaled more! I didn't think I had another book in me and can't really pinpoint the moment. I do know the idea had to have been divinely inspired, because I don't think I could have thought of this on my own—especially the technique of writing biographies in first-person. I mean, that's very unusual, isn't it?  An autobiography that isn't an autobiography! Scripture tells us that nothing is impossible with God. I believe that, but I'm always thinking about what a skeptic would say, so I think that played into it.  Instead of telling, why not show – via words – real people who accomplished amazing things—world-changing things—and credited their accomplishments to God, specifically to their Christian faith. And so ETERNITY evolved.
SM: How did you go about building your list of amazing people?
Research, research, research. I surfed the internet continuously.  At first I looked for lists—lists of famous Christians. But all I got were the well-known ones:  Billy Graham, Mother Teresa, Martin Luther, Martin Luther King, Jr., and the like. I wanted to find people who were not necessarily recognized for their faith—just driven by it. (Although I did make a few exceptions.) I didn't want them to be still living, for their stories could change. I trolled through scholarly databases, thumbed through new and old magazines—the Wall Street Journal was a good source, especially their Saturday review section—and  I asked people who they admired.  After all that I had a list of about 100 people that might be good subjects, and began to research their backgrounds. I was able to get it down to about forty and from there to the seventeen. I think I could have gone the forty, but stopped when I had enough to fill a book.  Maybe a sequel!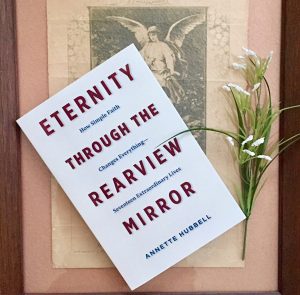 SM: It's always nice to have leftover research for another book! Were there folks that you thought you were going to include and then didn't? Were there some stories that just didn't make the cut? Why?
Oh yes!  Elizabeth Blackwell was a strong contender, for example. A Christian, she was America's first female doctor.  But she decided later in life to follow a different religious path, so, obviously, that wasn't going to work. There were many, too, that I just couldn't find enough information about their faith to make a determination. Oh, and I wanted these biographies to be brief—accurate but not get bogged down in the details which would have overshadowed the theme of what one can accomplish with God. Can you imagine, for example, writing about Thomas Jefferson, getting inside his head about the issue of slavery, in just 4,000 words? Impossible. Not only that, he had his own ideas about Christianity. He rewrote the Bible (called it the Jefferson Bible) because he didn't believe in Jesus' miracles, including the Resurrection, and red-lined them out.
SM: So how did you approach this massive research project? What was the hardest part about writing it? What surprised you the most?
Well, first let me say I had no idea what I was getting into. I'm all about accuracy, but I thought reading a couple of books on each subject and some encyclopedia entries would do. I began to find many discrepancies, though—many conflicting truths.  Even autobiographies would sometimes present only their best side. And most books did not include references, so I really had no way to determine what was truth and what wasn't. Very frustrating! I probably read the equivalent of five books on each subject before I began the search for source documents, which took a great amount of time and some fair detective work. Once I had each story pretty much in finished form I looked for experts who agreed to read and comment. (I wasn't able to find anyone for Johnny Cash, Louie Zamperini, and Gladys Aylward, so I really had to double down the research on those three.) To keep the bios conversational I put the facts in endnotes—all 606 of them! (The audible version doesn't include the endnotes.)
SM: As an accuracy-matter girl, I salute you! Do you have a favorite of the 17 extraordinary lives in the book, and if so, why?
I really don't have a favorite.  As I finished each story I would say, "Oh this is definitely my favorite," and then I'd start my research on the next one.  I will tell you that of the seventeen, I thought Abraham Lincoln would be the easiest and Johnny Cash the hardest, and it turned out exactly the opposite. Many to this day will argue that Lincoln was a non-believer all his life. "An infidel," they call him. That was a big surprise to me.  So to present his life as a Christian, I had to do enough research to prove to myself that although he once was an atheist, he grew out of that—in a big way. And Johnny Cash's life style, his drug usage was like Paul's thorn in his side. Did you know that Johnny Cash was a schooled pastor, and that he wrote a book called The Man in White, about the apostle Paul? And in his concerts he acknowledged Jesus Christ as number one in his life. Johnny was a perfect example of the shortcomings of man and the ever faithful love of God.
SM: I didn't know Johnny Cash wrote a book about the apostle Paul! What do you hope people take away from reading this book?
I want them to be inspired, to be motivated! To ask for a purpose if they need one. I want it to be a believer's delight and a Doubting Thomas's revelation. Most of these seventeen were just regular people—they had seasons to their lives, lessons to learn—like we all do. If we could go back in time and ask each of them what important lesson they would want to impart, I think they would all say that anything is possible alongside the power of God.  That is what I would say to anyone today.
SM: Good words!! Thanks, Annette. And now, reading community, if you would like be part of the random draw for either an audio or print version of Annette's book, just say hello in the comments, tell us who is one of YOUR favorite inspiring persons of the past, and specify if you want either audio or print or both (but do note there will be two winners. If you're the first winner for the audio, your name will be dropped for the print version.) Comment by noon on Weds, July 17. Let's hear who are your favorite people of the past! (they don't have to be famous…)