So a couple weeks back, I was in Portland, Oregon, teaching at the Oregon Christian Writers Conference, and I brought my husband with me so that we could spend a few days enjoying the off hours in Portland's downtown and then a few extra days on Oregon's stunning coast. Born and raised in California, I am embarrassed to say that this was my first visit to my northern neighbor. We had a great time (when we weren't sitting in LA-esque traffic – wasn't ready for that) sampling Portland's vibe in the form of food and drink. Here a couple highlights that you won't want to miss if you find yourself in Portland.
Voodoo Doughnuts – 22 SW 3rd Avenue, Portland.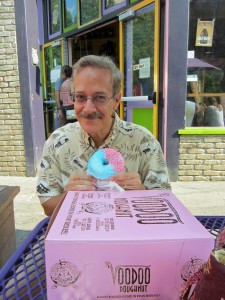 I actually don't eat a lot of doughnuts anymore but I'd heard about Voodoo Doughnuts prior to our trip, and since I knew we'd be close to the flagship store when we went to Powell's City of Books (do I even need to tell you you MUST go there sometime in your lifetime?) we stopped in. The name should clue you in that this place is not Winchell's, Dunkin, or Krispy Kreme. It is its own place, where doughnuts of the weird and wonderful abound . Go hungry. And make sure you get a tall Stumptown coffee to cut the audacious sweetness.
Salt and Straw -2035 NW Alberta Street, Portland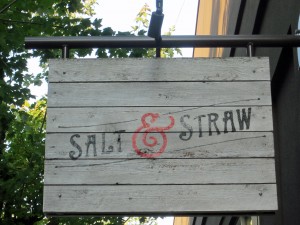 Anytime you see a line out the door and around the corner of an ice cream shop, chances are it's going to be worth the wait. It was. Just like Voodoo isn't Winchell's, Salt and Straw isn't much like Baskin Robbins. With flavors like Green Fennel and Maple, Pear and Bleu Cheese, Bone Marrow and Bourbon-Smoked Cherries, and Carrot Watermelon Sorbet, this place is hands down the most unique ice cream shop I've ever been to. They also consider themselves a farm-to-cone place where they hand make every batch using only all-natural dairy and local, sustainable and organic ingredients. And if those flavors seem to bizarre to you, I can only say, my friend, you only live once. Take some chances now and then. (There are a few tamer flavors for those afraid of heights).
Enso Urban Winery – 1416 SE Stark Street, Portland
A fellow San Diegan recommended we check out Enso's as he's a friend of the proprietor. Being a member of a local winery's lover's club and living very close to SoCal's winemaking capital of Temecula, I've been to lots of vineyards, wineries, and tasting rooms. This is the first urban winery I'd been to. Enso's is in the city, located in old warehouse-type building, artistically re-created into a tasting lounge and barrel room. Ryan, the owner, buys his grapes (Oregon has its own wine country with lots of vineyards for him to choose from) and then makes the wine right there in the middle of urban Portland. Our flights were paired with Woodblock chocolate (an Oregon delight), Olympic Provisions salami (vegans, I respect you but my heart bleeds for you on this one. This salami is exquisite), and a palate-pleasing selection of  cheeses, olives, crusty bread, and marcona almonds.   I leave you with several images from Enso's as I head back to the desk and the day's work. If you've been to any of these places or you have your own Portland gems to share, do tell…