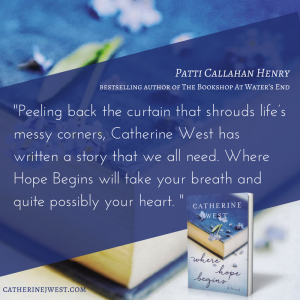 Today I'm happy to have as my guest, fellow novelist Catherine West to talk about her new book, WHERE HOPE BEGINS, which hits bookstore shelves tomorrow! Make sure you read to the end to see how to get in on the giveaway of a physical copy. Catherine writes women's fiction for Harper Collins Christian Publishing and lives on the island of Bermuda. "We're a British Colony, and I have to say, though I am biased," Catherine says, "Bermuda is one of the most beautiful places in the world!" She's married to a pediatrician, and they have two grown children, a son-in law, and soon to be daughter-in-law, and one adorable granddaughter. Their son and his fiancé are currently planning their 2019 wedding. And their third child, she says, is a border collie named Noah.
SUSAN: Welcome to blog, Catherine! How about we start with you telling us a bit about WHERE HOPE BEGINS?
CATHERINE: I would love to! This novel is really about so many things, grief and coping with loss, learning how to live through the unbearable, but it's also about grace and love and forgiveness, and of course, hope. It's the story of grace in the midst of brokenness, pointing us to the miracles that await when we look beyond our own expectations.The story deals with some heavy topics, adultery, loss of a child, suicide. Actually, this was a story I didn't want to write. I really had little experience with any of the situations my characters have to deal with. But the story came to me one night, so clearly and vividly, that I felt very strongly it was something I had to write. And as soon as I began, the words flowed without stopping until I reached the end. It was weird. I've never had a writing experience like that before, and I doubt I will again. Just as I was getting near the end of the first draft, I got news that really clinched my belief that God had a purpose for this book. We found out that very close friends of ours were going to be separating. And shortly after that, another couple, same story. I knew then that I was writing this book for a reason, and any doubt I had about it fell away.
SUSAN: Those are some heavy issues! What made you decide to tackle them all in this particular story?
CATHERINE: While it's true that there is a lot of heartache in the story, there's also a lot of healing. Savannah's journey is not easy, but it's also filled with sweet and funny moments. There is laughter here, and the people she meets along the way are well worth the extra tissues one may need!
SUSAN: That's good to hear! What would you say the story is about, in a nutshell?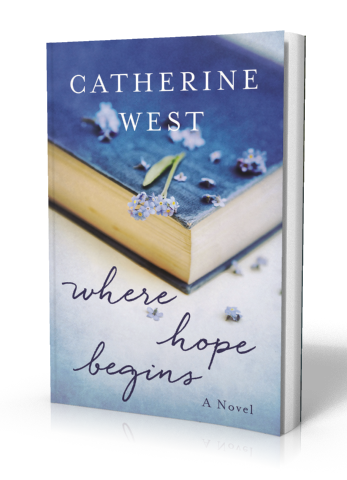 CATHERINE: Savannah Barrington has always found solace at her parents' lake house in the Berkshires, and it's the place that she runs to when her husband of over twenty years leaves her. Though her world is shaken, and the future uncertain, she finds hope through an old woman's wisdom, a little girl's laughter, and a man who's willing to risk his own heart to prove to Savannah that she is worthy of love. But soon, Savannah is given a challenge that she can't run away from. Forgiving the unforgivable. Amidst the ancient gardens and musty bookstores of the small town she's sought refuge in, she must reconcile with the grief that haunts her, the God pursuing her, and the wounds of the past that might be healed after all.
SUSAN: Do you have a favorite character in this novel?
CATHERINE: Of course, I think the obvious choice is Brock Chandler, but I'm going to say his great-aunt Clarice wins this one for me. She was probably the biggest surprise and she fairly stepped off the page from the moment she opened her front door to Savannah. I love her wisdom and truth-telling. I feel like she'd give the best hugs. We all need someone in our lives who's not afraid to tell us the truth, even when it hurts. Clarice was just the person Savannah needed at that point in her life. I really had so much fun watching her character spring to life.
SUSAN: Your most recent novels have focused on the human family and all the dynamics that make up those relationships. Can you tell us a bit about why that theme resonates with you?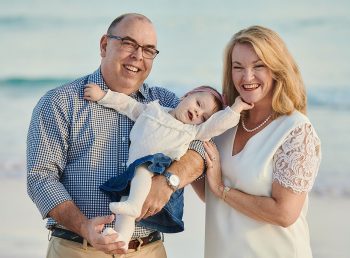 CATHERINE: While I have written romance in the past, I'm really most comfortable with family drama. Families can be so complicated. It's really amazing to me that you can have all these people related by blood, yet all so very different. But the familial bond often, not always, overrides those differences. I love writing what I call "reality fiction." Digging deep into those tough topics that we often want to ignore or brush aside because sometimes it's too difficult. But life is hard. All of us are faced with struggles and situations that seem insurmountable. I think it's really important to acknowledge that, and to realize that even in our darkest hours, we are never really alone. We are loved and cared for by an amazing God who will never abandon us. That's really the crux of each story I write. While the faith message may be subtle, I don't believe it's one that can be ignored. Without hope, we have nothing. And that's what I like my characters to eventually come around to. Most of them do.
SUSAN: I love that! "Without hope, we have nothing." So what's it like living on an island in the middle of the Atlantic?
CATHERINE: It's different. I was born and raised on Bermuda, so it's really home to me. We're just a short flight from most major cities – Boston, New York, Atlanta, Toronto –  so it's quite easy to travel, and I do, a lot. Bermuda is a relatively peaceful place. Our roads are small and the speed limit is 20 mph, though of course one rarely drives at that speed. It is beautiful, with turquoise waters, pink sand (it is actually, due to the coral reefs we have surrounding us), and flowers blooming all year long. There's a quiet pace to life here that you won't find in many places. We have no shopping malls or chain stores like Starbucks (sadly); most people do outdoorsy stuff like tennis and sailing and other water sports. We have great golf courses. And of course, the very best thing, no snow!!
SUSAN: Yes, I've done the snow thing. I know what you mean about living where there's snow and where there isn't. I miss the gently falling stuff, the bridal-white vistas, the sparkling beauty of snow in moonlight, but I don't miss the black ice, the shoveling and the temps! Before we say goodbye, do you have any advice for aspiring authors out there?
CATHERINE: I think the biggest thing is to realize that there is much work to be done. I always stress how important it is to really hone your craft. Read all the books. Go to conferences and learn from others. Be teachable. I think we're constantly learning, no matter what we're focused on, writing, art, music, there's always something new to uncover. Writing is a solitary occupation, and while it's tempting (at least for me) to ferret away in your little hobbit hole, try and get out and meet people! Make friends with like-minded crazy people and you'll have a community for life. It's so important to have that support. Most of all, if you truly believe this is your calling, the path that God has set you on, don't let go of that. It can be very discouraging to receive rejections when you've poured so much of yourself into something, but they're all part of the process. Learn from them. And keep going. If it's your dream, don't give that up. You'll get there!
SUSAN: Thanks stopping by, Catherine! Readers, if you would like to get your name in on the drawing (US winners only, sorry!) just answer this question and your name's in the hat: Have you ever been to Bermuda? What did you like best about it? And if you haven't, what do you think you'd like best about island living. Comment before midnight PST on Thursday, May 24. A winner will be announced on Friday. If you want stay connected to Catherine on Facebook, here is her author's page: https://www.facebook.com/groups/702332983287917/
Have a great week everyone!