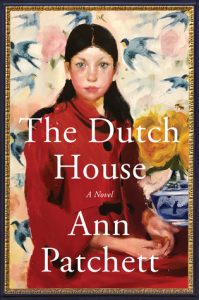 Since reading Bel Canto years ago, I have said I will read anything Ann Patchett writes. I missed a few of hers pre-Bel Canto and while I haven't yet gotten to them, it comforts me to know that they're waiting for me for when life slows down (I've heard that happens; one day you wake up and you're older and retired and you can read all the time). When I heard The Dutch House was coming out and saw its distinctive cover (Who IS that girl? I wondered) I put it on my TBDWIR (To Be Devoured When It Releases) list pronto.
And then it released and people were talking about it, and it was popping up on bestsellers lists all over the place and audio book lovers were swooning over this tale being read to them by the venerable Tom Hanks. I hurried through the other required reading I was working on, and made space in my life to enjoy The Dutch House. I had already bought it, it was just there on my cluttered nightstand awaiting me.
I hadn't read much about the novel, which is my usual thing. I don't read the back copy of books I know I am going to want to read. Sometimes there are mini spoilers there. So I didn't know what The Dutch House was or who lived in it or what it meant to them. I didn't know what the evocative painting on the front meant and I certainly couldn't know how I would be affected when Patchett revealed the significance of that painting, and this at a time in the story when I had already fallen in love with these perfectly drawn characters. It was the kind of book that I couldn't wait to get back to, not because I just had to know what happened next, but because I just had to know what happened to these characters next.  Here is just one of the beautifully composed thoughts penned in its pages.
"There are a few times in life when you leap up and the past that you'd been standing on falls away behind you, and the future you mean to land on is not yet in place, and for a moment you're suspended knowing nothing and no one, not even yourself."
I was going to use the back cover copy to tell you what the book is about but I'm not going to. I will just say it's a book about a brother and sister, and their childhood home, and everything that the word "home" might and should conjure up in your mind when you hear that word spoken.  I loved it so much I am going to use one of my Audible credits and have Tom Hanks read it to me. I hardly ever read books twice because, you know, so many books, so little time. So you know it's a good one when I tell you I'll be "reading" this one again. Soon.
Highly recommend.