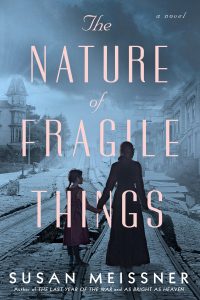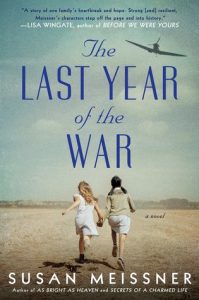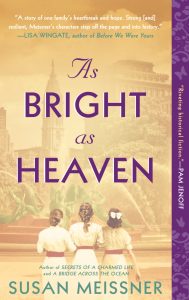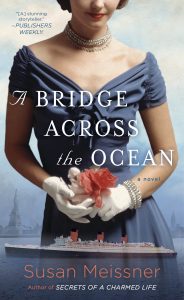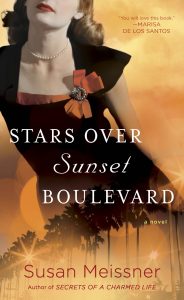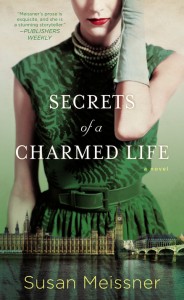 The Nature of Fragile Things
A novel about the bonds of friendship and mother love, and the power of female solidarity…
(COMING IN FEB 2021) 1905 – Sophie Whalen is a young Irish immigrant so anxious to get out of a Manhattan tenement that she answers a San Francisco widower's mail-order bride ad. Martin Hocking proves to be as aloof as he is handsome, but Sophie quickly develops deep affection for Kat, his silent five-year-old daughter. Even so, something about her hastily manufactured happiness isn't right. Then one early-spring evening a year later, a stranger at the door sets in motion a transforming chain of events. Sophie discovers hidden ties to two other women. The first, pretty and pregnant, is standing on her doorstep. The second is hundreds of miles away in the American Southwest, grieving the loss of everything she once loved. The fates of these three women intertwine on the eve of the devastating earthquake, thrusting them onto a perilous journey that will test their resiliency and resolve and, ultimately, their belief that love can overcome fear. (starred review, Publishers Weekly)
Also available in Large Print, Russian, Hebrew
Pre-order at Barnes and Noble, Books-A-Million, Bookshop.org, Hudson, Indie Bound, Powell's, Target, Walmart, Amazon
The Last Year of the War
An American girl's life changes forever when her German immigrant parents are interned in a WW2 Texas internment camp.
Elise Sontag is a typical Iowa fourteen-year-old but then her German immigrant father, a legal U.S. resident for nearly two decades, is suddenly arrested on suspicion of being a Nazi sympathizer. The family is sent to an internment camp in Texas, where, behind the armed guards and barbed wire, Elise feels stripped of her very identity. At the camp she meets fellow internee Mariko Inoue, a Japanese-American teenager from Los Angeles, and their unlikely friendship, even after they are both repatriated, challenges Elise to hold on to the belief the life she knew before the war will again be hers. Here is a little-known WW2 story with great resonance for our own times which speaks to the notion of who we are when who we've always been is called into question.
Also available in these translations: Large print, Croatian, Dutch, Hungarian
Buy this book: Amazon, Barnes & Noble, BAM, Hudson, IndieBound, Powell's, Target, Walmart
As Bright As Heaven
A family is reborn through loss and love during the 1918 pandemic
In 1918, Philadelphia was a city teeming with promise. Into this bustling town, came Pauline Bright and her husband, filled with hope that they could now give their three daughters a chance at a better life. But just months later, the Spanish Flu reaches the shores of America and the streets of Philly, and they find their world looks nothing like the one they'd hoped for. Amidst the tragedy and challenges, they learn what they cannot live without–and what they are willing to do about it. As Bright as Heaven is the compelling story of a mother and her daughters who find themselves in a harsh world not of their making, which will either crush their resolve to survive or purify it.
Also available in these translations: Dutch, Hebrew, Hungarian, Large print.
Buy this book: Amazon, Barnes and Noble, Books A Million,  Indie Bound, and Powell's.
A Bridge Across the Ocean
Perfect for readers of Sarah's Key, and The Nightingale
February, 1946. World War Two is over, but recovery from the most intimate of its horrors has only just begun for a German ballerina desperate to escape her past and the wronged daughter of a French Resistance spy. Now the two women are joining hundreds of other European war brides aboard the renowned RMS Queen Mary to be reunited with their American husbands.  Meanwhile in the present day, Brette Caslake – a young woman with the ability to see ghosts – visits the famously haunted Queen Mary at the request of an old friend. What she finds there will set her on a course to solve a seventy-year-old mystery.
Also available in these translations: Norwegian, Hungarian, Slovene, Bulgarian, Italian, Dutch, Large print
Buy this book: Amazon, Barnes and Noble, Books A Million,  Indie Bound, and Powell's.
Stars Over Sunset Boulevard
A story set in old Hollywood's golden days…
When an iconic hat worn by Scarlett O'Hara in Gone With the Wind ends up in a vintage clothing boutique by mistake, efforts to return it to its owner take the reader on a journey to the past. It's 1938 and Violet Mayfield sets out to reinvent herself after her dream of becoming a wife and mother falls apart, landing a job on the film-set of Gone With the Wind. There, she meets enigmatic Audrey Duvall. Their adventures together among Hollywood's glitterati enthrall Violet…until each woman's deepest desires collide.  Also available in these translations: Slovene, Norwegian
Buy this book: Amazon, Barnes and Noble, Books A Million, Indie Bound, and Powell's.
Secrets of a Charmed Life
A 2015 Goodreads Choice Awards Finalist
Current day, Oxford, England. Young American scholar Kendra Van Zant interviews Isabel McFarland just when the elderly woman is ready to give up secrets about the war that she has kept for decades…beginning with who she really is. 1940s, England. As Hitler prepares to wage an unprecedented war on London, tens of thousands of children are evacuated to foster homes in the rural countryside. But even as fifteen-year-old Emmy Downtree and her much younger sister Julia find refuge in a charming Cotswold cottage, Emmy's burning ambition to return to the city and apprentice with a fashion designer pits her against Julia's profound need for her sister's presence. Acting at cross purposes just as the Luftwaffe rains down its terrible destruction, the sisters are cruelly separated, and their lives are transformed.
Also available in these translations:  Italian, Croatian, Serbian, Turkish, Bulgarian, Hebrew, Slovene, Dutch, Albanian, Hungarian, Norwegian, Lithuanian, Portuguese, Spanish, Romanian, Large print.
Buy this book: Amazon, Barnes and Noble, Books A Million, Indie Bound, and Powell's.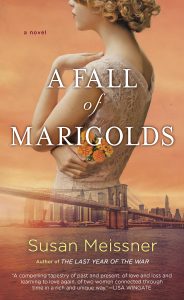 A Fall of Marigolds
Named to Booklist's Top Ten Women's Fiction for 2014…
September 1911: On Ellis Island, nurse Clara Wood can't face returning to Manhattan where the man she loved fell to his death in the Triangle Shirtwaist Fire. while caring for a fevered immigrant whose own loss mirrors hers, she finds herself caught in a dilemma that compels her to confront the truth about the assumptions she's made about love. September 2011: On Manhattan's Upper West Side, 9/11 widow Taryn Michaels has convinced herself that she is living fully, working in a charming specialty fabric store and raising her daughter alone. Then a long-lost photograph appears and she is forced to relive the terrible day her husband died – the same day a stranger reached out and saved her. Will a chance reconnection open Taryn's eyes to the larger forces at work in her life?
Also available in these translations: Czech, Italian, Dutch, Serbian, Slovene, Polish, Estonian, Hungarian, Norwegian, Turkish, Romanian
Buy this book: Amazon, Barnes and Noble, Books A Million, Indie Bound, and Powell's.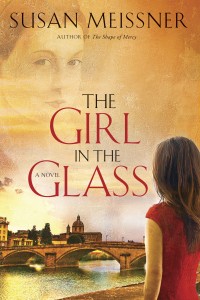 The Girl In The Glass
Starred review in Publishers Weekly…
Meg Pomeroy has long dreamed of taking a promised trip to Florence, Italy. When her less-than-reliable dad finally tells Meg to book the trip, she hopes that the experience will heal the fissures left on her life by her parents' divorce. But when Meg arrives in Florence, her father is a no-show, leaving the somewhat delusional memoir-writer Sophia Borelli to introduce Meg to the rich beauty of the ancient city. Sofia claims a long-ago Medici princess speaks to her from within the great masterpieces of the Italian Renaissance, and while this unnerves Meg at first, soon she finds herself wondering, what if renaissance isn't just a word? What if that's what happens when you dare to believe that what is isn't what has to be?
Foreign translations: Hungarian
Buy this book: Amazon, Barnes and Noble, Books A Million, Indie Bound, and Powell's.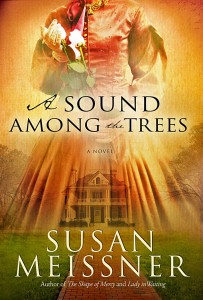 A Sound Among the Trees
Starred review in Publishers Weekly…
As a young bride, Susannah Page was rumored to be a Civil War spy for the North, a traitor to her Virginian roots. Her great-granddaughter Adelaide, the current matriarch of Holly Oak believes the house itself bears a grudge toward its tragic past. When Marielle Bishop marries into the family, it isn't long before she is led to believe that the house she just settled into brings misfortune to the women who live there. With Adelaide's richly peppered superstitions and deep family roots at stake, Marielle must sort out the truth about Susannah Page and Holly Oak— and make peace with the sacrifices she has made for love.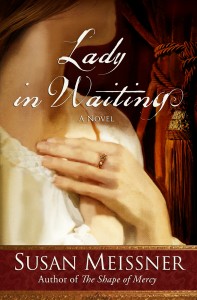 Lady in Waiting
Starred review in Publishers Weekly and a Christy Award finalist…
Manhattan in the current day: Antique-store owner Jane Lindsay had never expected that her husband of 22 years would walk out on their marriage. But when it happens, she feels powerless to stop the course of events that follow. Then Jane finds an old ring in a box of ancient relics and discovers a Latin inscription in the band along with just one recognizable word: Jane. In the sixteenth-century: Lucy Day becomes the dressmaker to Lady Jane Grey, an innocent young woman whose fate seems to be controlled by a dangerous political climate, one threatening to deny her true love and pursuit of her own interests. As the stories of both Janes unfold, it becomes clear that each woman has far more influence over her life than she once imagined. It all comes down to the choices each makes despite the realities they face.
   Buy this book: 
Amazon
,
Barnes and Noble
,
Books A Million
,
Indie Bound
, and 
Powell's
.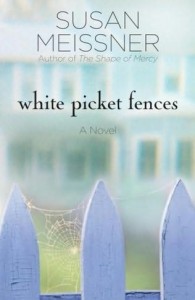 White Picket Fences
When her black sheep brother disappears, Amanda Janvier eagerly takes in her sixteen year-old niece Tally. Amanda envisions that she, her husband Neil, and their two teenagers can offer the girl stability and a shot at a "normal" life, even though their own storybook lives are about to crumble. 17-year-old Chase Janvier hasn't seen his cousin in years, and he doesn't expect her arrival will affect him much–or interfere with his growing, disturbing interest in a long-ago house fire that plagues his dreams. Tally and Chase bond as they interview two Holocaust survivors for a sociology project, and become startlingly aware that the whole family is grappling with hidden secrets, with the echoes of the past, and with the realization that ignoring tragic situations won't make them go away.
   Buy this book: 
Amazon
,
Barnes and Noble
,
Books A Million
,
Indie Bound
, and 
Powell's
.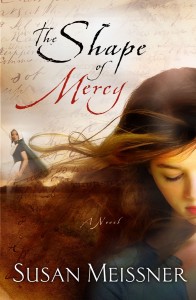 The Shape of Mercy
Named to Publishers Weekly's Best 100 novels for 2008, the ECPA Fiction Book of the Year, a RITA finalist, and Carol Award winner…
Leaving a life of privilege to strike out on her own, Lauren takes a part-time job from 83-year-old librarian Abigail Boyles, who asks Lauren to transcribe the journal entries of her ancestor Mercy Hayworth, a victim of the Salem witch trials. Lauren finds herself drawn to this girl who lived and died four centuries ago. As the fervor around the witch accusations increases, Mercy becomes trapped in the worldview of the day, unable to fight the overwhelming influence of snap judgments and superstition, and Lauren realizes that the secrets of Mercy's story extend beyond the pages of her diary, living on in the mysterious, embittered Abigail. The strength of her affinity with Mercy forces Lauren to take a startling new look at her own life. But on the way to the truth, will Lauren find herself playing the helpless defendant or the misguided judge? Can she break free from her own perceptions and see who she really is?
   Buy this book on: 
Amazon
,
Barnes and Noble
,
Books A Million
,
Indie Bound
, and 
Powell's
.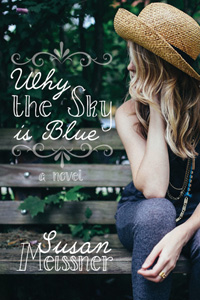 Why The Sky is Blue
Susan's debut novel, originally published in 2004…
Claire Holland, a happily married mother of two, is grateful beyond words that she is unable to remember the brutal attack that nearly ended her life. But when she finds out she is pregnant — against all odds – she and her husband Dan must decide what to do with a baby she is already starting to love and whom Dan can't ever imagine loving. Told from the perspective of Claire and her firstborn Kate, Why the Sky is Blue is an intensely personal story of a mother and her two daughters, the first being a much-loved, wanted child and the second, conceived as the result of a sexual assault and given up for adoption. It is a story of the power of love to triumph over even the worst of circumstances.
Buy this e-book on: Amazon (Kindle Select)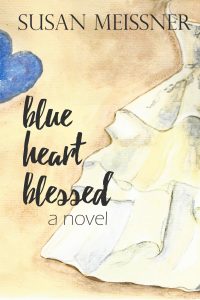 Blue Heart Blessed
Daisy's heart was broken when the man she loved jilted her at the altar and she is forced to do something with her much-loved wedding dress — a luscious concoction of tulle and chiffon that seemed to whisper her name when it rustled. She opens a secondhand wedding dress boutique, hoping to ease her own heartache by giving other "rejected wedding dresses" a second chance to bring happiness. and to hopefully say goodbye to her own dress. Daisy lovingly sews a tiny blue heart into every dress she sells — a heart blessed by Father Laurent, a retired Episcopal priest. When Father Laurent suffers a near-fatal heart attack, his brooding, recently divorced son arrives with plans to take his ailing father away, and a contest of wills begins between two stubborn and hurting souls that will ultimately change both their lives.
   Buy this e-book on: 
Amazon 
(Kindle Select)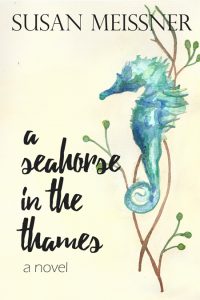 A Seahorse in the Thames
Alexa Poole's week off from work was to be spent quietly recuperating from minor surgery. But when carpenter Stephen Moran falls into her life the unexpected happens. His sweet, gentle disposition proves more than she can resist. But then Alexa's older sister, Rebecca, has vanished from the residential center where she has lived for the past 17 years, since an auto accident left her mentally compromised. Alexa, fearing the worst, calls her twin sister in England, and Priscilla agrees to come home despite a strained separation from her family. As Alexa begins the search for Rebecca, disturbing questions surface. Why did the car that Rebecca was riding in swerve off the road, killing her best friend? And what about the mysterious check found in Rebecca's room and never cashed? And in the midst of the search for Rebecca, can Alexa, in love for the first time, truly embrace its risks?
Soon to be re-released on Kindle Select!