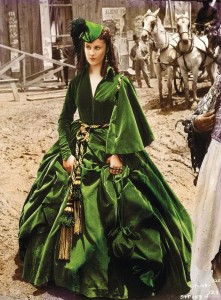 One of the more enjoyable things I get to do when a new book comes out is share all the inside stuff about how the story came to be. Those details aren't usually included on a book's back cover and yet I think most of us novel-lovers like learning about a book's genesis, how the author came up with the storyline, and why she made the decisions she did in the telling.
I will be sharing with you the inside scoop on STARS OVER SUNSET BOULEVARD for the next few weeks as its launch into the wild is celebrated – at least by me! Today I want to tell you why, of all the Gone with the Wind props and costume pieces I could have chosen to make a mysterious reappearance in the 21st century, I chose Scarlett's curtain dress hat.
I am a huge fan of metaphor. For me, that curtain-dress hat is emblematic of what dire circumstances can lead someone to do when what she loves most is in danger of being taken from her. If you're familiar with the scene in the movie, you know that Scarlett is in a place of decision when she pulls down her dead mother's curtains so that she can dress the part of someone she is not.  I think what's being communicated through imagery here is that when we're afraid of losing what we treasure most, we sometimes do things that we would never do in an ordinary situation.
I don't think it's any accident that that hat is part rich velvet and gold braid and part barnyard rooster feathers. It's an amalgam of Scarlett's strength and her weakness. She will do what no one else will do because of how afraid she is of losing everything.
You might find it interesting that the actual hat worn by Vivien Leigh is part of the museum collection at the Harry Ransom Center at the University of Texas at Austin. When I spoke to the curator about my premise way back at the idea stage (I told him I was going to have the curtain dress hat show up in a vintage clothing store on Sunset Blvd in the current day) he  told me there was indeed a second hat made – a back-up – and no one knows what became of it. I didn't have to use any literary license in getting the hat out of the museum and into a boutique in Hollywood. Pretty cool, huh?
The sketch at the top of this post is costume designer Walter Plunkett's original concept for this dress and hat. You can see many more of those costume designs, and much more info on GWTW, on the University's wonderful website. Here's the link.
And now let's have a giveaway, shall we? I will give a signed copy of STARS OVER SUNSET BOULEVARD to two randomly-drawn winners who comment below. I'd love to hear what your favorite GWTW costume or costume piece is. No worries if you haven't seen the movie and don't have a favorite (but really, what are you waiting for!? Watch the movie!). Leave your comment by noon PST on Monday, Jan 11. If you share the link to this post on Facebook or Twitter, your chances will double. Do let me know in your comment that you shared so I will know.
Have a great weekend!
p.s. Did you know the infamous mock curtain-dress Carol Burnett wore in her parody WENT WITH THE WIND is on display at the Smithsonian? With its curtain rod no less!