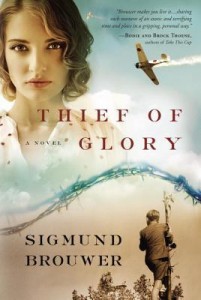 I've long been a fan of fiction that dovetails a historical story with a contemporary framework. I like reading books with this kind of construction and I like writing them.  When I was asked to read an advance copy of my friend Sigmund Brouwer's THIEF OF GLORY, and was told that it was a WWII story framed by the current day, I said yes immediately. I'm a fan of Sigmund's style, have been since his BROKEN ANGEL a few years back. It wasn't hard to come up with glowing words for Thief of Glory. This one was unputdownable on so many levels.  Here's just a bit about the book:
Jeremiah Prins was the 12-year-old son of a school headmaster in the Dutch East Indies when Holland declared war on the Japanese in 1941. In retaliation, the Japanese army invaded, and Jeremiah and his family were placed in a Japanese prisoner-of-war camp; a hell on earth as all war camps are. After the war he finds himself in California, where he struggles with lingering anger and anguish from his experiences and the decisions he made.
In the present day, a now-elderly Jeremiah tries to make sense of his life by journaling all that his children do not know about his past, intending to leave his writings as an apology after he is gone. An online encounter puts Jeremiah in touch with his true love from the war years, Laura, and when they meet again, long-buried secrets are unearthed that will surprise and shock you, and ultimately endear this wounded soul to you.
Before reading Thief of Glory, I had no idea what the war was like for the Dutch residents living in what had been Dutch-occupied Indonesia. The novel was eye-opening to say the least. As with other books I've read with young protagonists dealing with the harsh realities of adults at war (The Book Thief, Sarah's Key, Diary of A Young Girl, Stones from the River) this one yanked fiercely on my mother-heart and left me astonished at what war expects of the children swept up into its maelstrom.
The book won't be released until mid-August but I suggest you put it on your To Be Bought list and then most definitely on your To Be Read pile. You will be moved, appalled, changed.