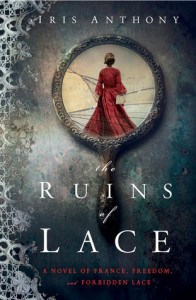 I am an unabashed devotee of any historical event that reads like a story and so when I heard a writer whose work I already admire had a new book about forbidden lace during the reign of King Louis XIII, I knew I had to snatch it up.
This was news to me, that there was a time in French history when lace was contraband. Louis XIII actually banned it; that frilly, frothy white stuff that spills from hems and cuffs and collars. To possess it was a criminal act and to smuggle it into the country was as treasonous as a death threat to His Royal Unlaceness himself. But the French aristocracy wanted what they were forbidden to have and whenever someone with means wants something they can't readily have, there is always someone who will get it for them for a price, regardless of the risk or who they have to abuse and use to get it.
Writing under the pseudonym Iris Anthony, the author of The Ruins of Lace, is someone whose work in historical fiction is already stellar. This one is probably her best yet but it's hailed as her debut because as Iris Anthony, that's what it is. Here's the Publishers Weekly review:
"In this stunning debut from the pseudonymous Anthony, King Louis XIII's ban on lace gives rise to a black market that weaves together the lives of four women in 17th-century France and Flanders. Katharina Martens is a Flemish lace maker who considers it her God-given duty to craft the "exquisite, beautiful" fabric, never mind that her work—often conducted without firelight or lanterns, in order to keep the lace clean of soot and ash—has left her hunched and nearly blind. As the end of her lace-making career draws nigh, to be followed by the sordid existence of former craftswomen relegated to a life of "doing… vile things," her sister, Heilwich, struggles to save enough money to buy Katharina's freedom from the abbey where she works. Meanwhile in France, Lissette Lefort and her cousin Alexandre must procure a length of forbidden lace to pay off the conniving count of Montreau, who threatens to reveal Lissette's father's role in an attempted assassination of the king. As beautifully fashioned as the sought-after lace, this story is sure to impress."
Told in multiple view points, including that of a dog who is a smuggler's runner, it is obvious the story is really about people – and a dog –  and what they value most in life and what they are willing to do or suffer to have it.  There is a great interview with Iris Anthony on the book's website and a video chat about where the idea came from and how she came to choose the story's narrators.
I was especially intrigued by the notion that what makes lace beautiful is the part that isn't there – the air between the threads that creates the pattern – that is the part that gives lace its artistry; the invisible part. That is remarkable to me and worthy of pondering.
It's a great read folks, not a cozy feel-good bedtime book, but a thought-provoking page-turner that you won't want to put down.