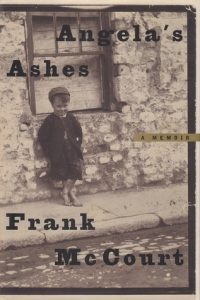 Sometimes it takes me a while to get to book that everyone is talking about, such that by the time I DO get to it,  everyone is talking about a different book. Such has been the case with the Pulitzer-prize winner Angela's Ashes, a memoir by Frank McCourt. What I remember most from twenty years ago (when this book was what every book club was reading – even The Finer Things Club on The Office) was that everyone was saying that it was sad. I've never thought that was the reason I kept putting it off, but maybe it was. But all along I knew it had to be more than just a sad book. It won the Pulitzer Prize for fiction the year it came out; an award sometimes not given at all if the committee choosing it doesn't deem a book worthy of it that year.
I'm reading it now (finally) because in the book I'm just now starting to plot (my 2021 release – more on that later!) I have an Irish immigrant to America as a main character and when I began researching books to read on the Irish immigrant experience, Angela's Ashes came up first in more than one search for titles. I'm on pg 141, and yes it's sad, and no, there are no ashes from Angela yet. She is still alive on pg. 141, which makes me wonder if the ashes are something else. Don't tell me if you know; I'm looking forward to the discovery on my own. But I can tell you it is not just a sad book. Things happened in young Frank McCourt's life that were very sad, but the book isn't a mere list of tragedies, I assure you. The writing is beautiful; simple and complex at the same time. That it is the true story of a man's life makes it a compelling read that I can't wait to get back to at the end of the day. It's a different take on the Irish immigrant experience than I was expecting; Frank is born in America to his Irish immigrant parents and they return to Ireland in the early 1930s when he is just a young boy. For that reason, this may not be the best book to read on what it was like to be a young Irish immigrant trying to make her way in New York at the turn of the century. But I am nevertheless fully swept in and will finish and let you know what I thought of it.
In the meantime, perhaps you can recommend your favorite Irish immigrant stories or non-fiction works or memoirs. Nothing from the Great Famine of the 19th century, though, as I'm writing about a young Irish woman in 1904. I am hoping to find out where in Ireland my own ancestors came from; my great-grandmother was a McFadden and my great grandmother was a Griffin, and we're hooked into ancestry.com so I'm optimistic I will be able track down my own Irish roots.  Would love to hear if you've got Irish in you and where your long ago relatives hailed from.
If you've not read Angela's Ashes yet and want to know more about it, here's what the publisher says: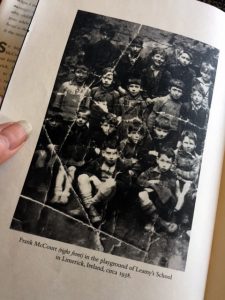 "So begins the luminous memoir of Frank McCourt, born in Depression-era Brooklyn to recent Irish immigrants and raised in the slums of Limerick, Ireland. Frank's mother, Angela, has no money to feed the children since Frank's father, Malachy, rarely works, and when he does he drinks his wages. Yet Malachy—exasperating, irresponsible, and beguiling—does nurture in Frank an appetite for the one thing he can provide: a story. Frank lives for his father's tales of Cuchulain, who saved Ireland, and of the Angel on the Seventh Step, who brings his mother babies. Perhaps it is story that accounts for Frank's survival. Wearing rags for diapers, begging a pig's head for Christmas dinner and gathering coal from the roadside to light a fire, Frank endures poverty, near-starvation and the casual cruelty of relatives and neighbors—yet lives to tell his tale with eloquence, exuberance, and remarkable forgiveness. Angela's Ashes, imbued on every page with Frank McCourt's astounding humor and compassion, is a glorious book that bears all the marks of a classic."
Have a great weekend!