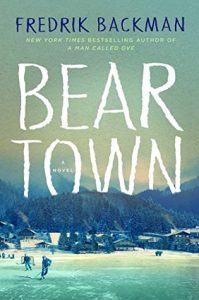 Not so very long ago, I started checking out audio books on CD from my library, mostly because my grandkids were an hour-and-a-half drive away when traffic was good and three hours away when traffic was a nightmare. I began with a Louise Penny mystery (Nature of the Beast, not the first in the series, and it was amazing despite it being the the first of her books not to be narrated by the stellar Ralph Cosham who I later realized is the best narrator in the history of the world because I got smart and went back to #1 of the Inspector Gamache series to re-begin at the beginning but at the time I didn't know) and have since listened to a great many books including The Marriage of Opposites by Alice Hoffman, Little Fires Everywhere by Celeste Ng, Rules of Civility by Amor Towles and Pachinko by Min Jin Lee as well as a bunch of Louise Penny's.
I've since moved on to Audible since we've a new car that doesn't have a CD player (that's how all new vehicles are now) so now I listen to books on my phone whenever I'm in the car, for even the shortest of distances. It's made commuting anywhere – to Trader Joe's ten minutes away or to Los Angeles – anywhere from two to three hours away – not a dreadful experience but even (dare I even say it?) but an enjoyable one.
These days I've got Beartown on my phone (so therefore in my car) and I'm surprised by how much I am enjoying it because the backdrop is all things hockey. It's authored by the same writer who gave us A Man Called Ove, which I LOVED. That it's by Fredrik Backman is pretty much the only reason I decided to give it a listen, because, again the backdrop is hockey. I don't dislike hockey. I actually like hockey, and since my husband used to play it when he was  much younger, he likes watching the Stanley Cup Finals and I usually watch with him, with him patiently answering my "Where's the puck?" every ten seconds without a complaint (that little black disc – even smaller on TV – is hard to keep track of). I just never pictured myself picking up (or picking out) a novel with hockey players on its cover.
The story is set in a Swedish town but the narrative reads like the setting could be any place in Minnesota where the population is less than five thousand and the only thing to do in winter (which lasts a long, long time) is play or watch ice hockey. Hockey is more than just that, though. It's not the only thing you can do; it's the only thing you WANT to do. It's the only thing. It's THE thing. And into this mini cosmos, Mr. Backman introduces an ensemble of characters – some in their teens, some in their 40's, some somewhere in between – whose lives and choices play out in and beyond and behind this ice. It's truly a book about people, not hockey, even though you can feel the numbing cold, taste the blood on your lip from a slamming body check, even see the puck.
I am imagining I will give it a bevy of stars, but I must warn would-be listeners that the language is not Minnesota-nice. Can I just say that I loathe the F-word? I really do. It's the ugliest word ever. It beautifies nothing. Aptly describes nothing. Communicates nothing but it's own ugliness. That word has nothing to do with the act of love and it annoys me to no end that on its spectrum of use, it gets to be associated with physical intimacy. It's just an ugly word that is even uglier when you have to hear it, over and over on your iPhone. Some might say the F-word is no longer anything but a throwaway descriptor that has slowly been stripped of any meaning. To that I'd say every word worth using has meaning. If it's truly a throwaway word, throw it away.
All that to say, I am loving the story. But I am not loving that within the story is an over-abundance of the ugliest word ever. That, my friends, is one of the drawbacks of listening to a book.
You have to listen to it. Every word.
Would love to hear your thoughts on this. No pun intended. And also, what you are listening to now.