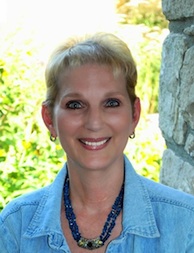 When my dear friend and fellow novelist Robin Lee Hatcher's marriage ended in divorce some years ago, she remembers being devastated. In the following years she learned that sometimes God answers prayer in the most unexpected ways. God used the pain of what appeared to be a failed marriage to draw her closer. I am happy to welcome Robin to my blog home today to talk about her new book, A Promise Kept, which was born from that difficult experience.
Q: Can you tell us a little bit about A Promise Kept and specifically how your own life inspired this story?
Robin: A Promise Kept opens as Allison Kavanagh arrives at the house her aunt Emma bequeathed to her — a log home in the mountains. Her marriage of more than twenty years has ended in divorce because of her husband's alcoholism. She was so certain God had promised to save her marriage, but obviously she was wrong. Now she is moving from Boise to Kings Meadow to start life afresh and find a way to heal from her heartbreak.
Like Allison, my marriage ended in divorce because of my husband's alcoholism. I was devastated because I'd been so convinced God had promised me He would save our marriage. I had believed His promise through many difficult times, but it hadn't come to pass. I knew God didn't lie. Therefore, I must have misunderstood.
But God had many things to teach me in the following years, including that He answers prayers in totally unexpected ways and in His own time, not mine. One of those unexpected ways was realized when my husband and I were remarried more than five years later. God used the divorce to save our marriage!
Q: So how does your husband feel this book and your story as a couple kind of being out in the open?
Robin: Thanks so much for asking this question. In order to honor my husband, I made certain from the very beginning that he was on-board for me to write about and talk about our marriage — which would mean talking about him and his battles with addiction. His response was, "If my story can help someone else, use it."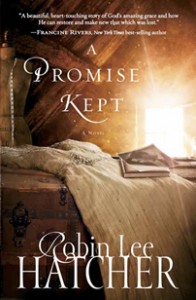 Q: How much of your main character's situation is based on your own life?
Robin: While my characters are never me — I allow them to be individuals and allow their lives to unfold in their own way — there are always pieces of me in them. Allison's life is not the same as mine. I didn't retreat to a mountain cabin nor have an aunt whose journals helped me discover truths I needed to know, nor did I withdraw from God during the depths of my grief as Allison does. But every lesson God teaches me eventually makes its way into one of my stories. That was certainly true of A Promise Kept.
Q: Because of what you went through, what do you say now to someone who feels like God has abandoned her?
Robin: Hold onto Him no matter what. We only see such a tiny scrap of reality. God sees the whole picture. He knows you intimately, and He loves you extravagantly. He hasn't abandoned you.
Faith isn't about feelings. We cannot trust our feelings. The Bible warns us that the heart is deceptive. If you are feeling abandoned, get into God's word and do a study on His character. When you know His character, you will cease to fear that He might leave you alone in your trials.
 Q: What is the most important thing God taught you during this difficult time in your life?
Robin: Not the most important but certainly the most surprising was when I realized I had reached the place where I could thank God for my marriage to an alcoholic and mean it. Because of what happened in my marriage, my faith was deepened and strengthened. I learned to hold onto the foot of the cross so tightly that I could feel the splinters in the palms of my hands. No matter what comes, I'm holding onto the Lord, from where my help comes.
I consider my life lesson to be this: Nothing, absolutely nothing, enters my life that isn't caused or allowed by God, filtered through His loving hands, for the purpose of making me more like Jesus.
Q: I've found that when things don't work out the way we want them to, it's pretty easy to blame God. What would you say to someone wrestling with these feelings?
Robin: Blaming God for things not working out the way we want is a fruitless action. And it means we still believe that life is about us. Me and my happiness. You and your happiness. But it isn't. Not in the way we think, anyway.
About ten or so years ago, I was standing in my office, weeping over my husband and our marriage. Big crocodile tears that splattered loudly when they hit the floor mat. I asked God, "Why?" What I meant was, "Why me?" And after a long period of time, I felt God speak to my heart, "Why not you, beloved?" It quieted me, stopped me cold. Yes, why not me? Did I think I was so special that I could avoid what Christ told me would be true? Jesus said, "In the world you have tribulation, but take courage; I have overcome the world."
Q: In your letter to readers, which appears at the end of A Promise Kept, you talk about how your divorce felt like a failure. How did God turn that failure around in your life?
Robin: When we were first married, my husband and I promised until death do us part. We meant it. So it felt like failure when God told me to "let go" of him after nearly a year of separation, even though I was acting in obedience. What I couldn't see or understand at first was that God needed to get my husband off by himself so the two of them could work on his life without me being there as a safety net, as the strong one. I believe my husband would have died if we continued on the way we had been, but I didn't see it that way at the time. I had to stand back and let God be God.
Q: Alcoholism played a large part in your marriage and eventually your divorce. What gave you the strength to continue to pray for your husband even when no answer seemed to come?
Robin: Strength comes from believing deep down in my soul that God is in control and that He wants the best for both me and my husband. I don't always know what that "best" is, but He does.
Me again! Thanks, Robin, for being here! It's always nice to have friends over for a chat. If you want to get to know Robin better, visit her at her lovely website. She is one of the kindest people I've ever had the pleasure to know. If you have a question for Robin, I know she'd be happy to answer it. Ask away…