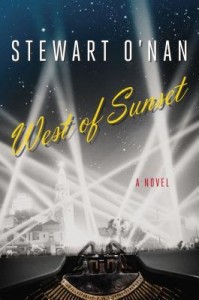 It's always sad when the talents of a gifted person collide with harsh reality, missed opportunities, and the frailty of that person's own psyche.  I wouldn't say I am a devotee of F. Scott Fitzgerald; I've only read The Great Gatsby (who hasn't?), but I read Stewart O'Nan's latest, West of Sunset, because it is set in Hollywood in the late 1930's – the era of the book I just finished writing. (As with so many historical places, you can only tour them in the pages of books. The Hollywood of today is vastly different than the the golden age of Tinseltown).  The fact that the the story was a fictionalized account of the last few years of this celebrated novelist's life was a bonus.
Prior to reading West of Sunset I knew only that F. Scott Fitzgerald died too young, and that when he left us, he wasn't at the top of his game. The immediate glory of Gatsby was behind him, and he did not know that future generations of high school students would be reading his book year after year after year. I also knew his wife Zelda had been placed in psychiatric care and that he had come west to California to earn money for her care.
O'Nan dealt with finesse and artistry the material he had to work with.  And while I wanted it to be a book that took me and all my senses back to Hollywood's golden days, this was primarily a book about Fitzgerald's struggle with an entire cast of inner enemies; the fact that he had to confront them on the glamorous streets of Hollywood was incidental. As one Goodreads reviewer put it: "This isn't a book for lovers of the flickering, fleeting Lost Generation. It is a peek into the charred last years of Fitzgerald, his battle with writing, at war with his demons."
Stewart O'Nan is an amazing writer, and since I had gone to hear him speak about this book and heard him read from its pages (he is also an engaging orator) I could hear his commanding voice in every line. The publisher's blurb about the book says that this book is a"rich, sometimes heartbreaking" novel of F. Scott Fitzgerald's last years in Hollywood. I would have to agree. You read it wishing things could end differently.
When you already know the story's outcome,  and that's it's a sad ending, you need a skilled writer at the helm. O'Nan delivers.  Narrative nonfiction or fictionalized history – whatever you choose to call it- is often only as interesting as the writer entrusted with the story can make it. For me, West of Sunset excelled where The Devil in White City did not. There was pathos here. And a wish for a magic wand to fix what was broken so long ago.